Donate to Win
SOG Studies and Observations Group "Professional Focus" Package
Total Retail Value:
$474.80
Donated By:
SOG Studies and Observations Group
**** Chosen by Winner:
John E.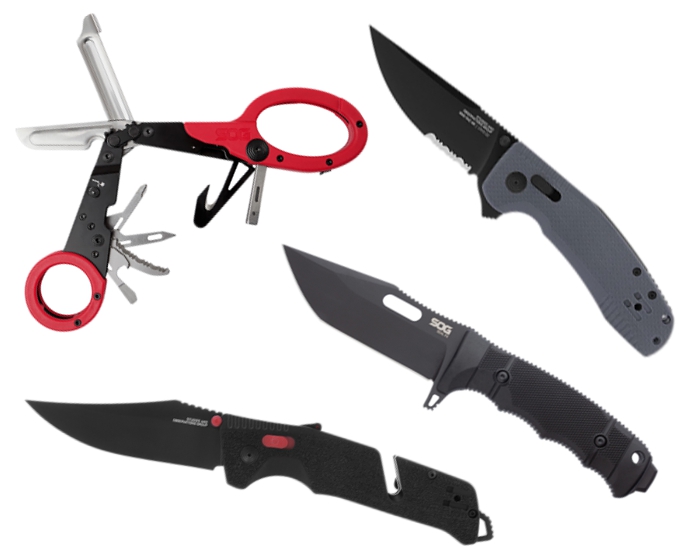 Our friends at SOG Studies and Observations Group have assembled a very useful set of their latest professional tools

1) SOG ParaShears ($74.95) A focused multi-tool designed specifically for first responders, ParaShears come complete with a mission-specific toolset that features 11 components, including shears, strap cutter, glass breaker, oxygen wrench and tweezers. Leveraging SOG's proprietary Compound Leverage technology, ParaShears are able to cut through material easier and quicker than equivalent shears. Capable and reliable, the ParaShears are a multi-tool designed for rapid, precise work under the most stressful conditions in medical applications
2) SOG SOG-TAC XR ($79.95) The go-to solution for uniformed professionals, SOG-TAC XR features a 3.4 inch cryogenically heat-treated D2 tool steel blade and ultra-grip G10 handle. SOG's XR Lock enables smooth ambidextrous single-handed opening in three different ways, with extremely secure blade-lock once open. The next generation of designed and engineered performance.

3) SOG SEAL FX ($224.95) The latest addition in our line of SEAL fixed blades, SEAL FX is built with extensive feedback from professional users. This partially serrated version is still American-made, with S35VN steel and a tough, glass-reinforced nylon handle. Including a customizable kydex sheath, SEAL FX is the professional's go-to solution for fixed blades.

4) SOG Trident AT ($94.95) Designed for professional users, Trident AT features rapid assisted opening with SOG's innovative ambidextrous AT-XR Lock, as well as integrated line cutter and glass breaker. Trident AT is easy to carry, with a highly functional 3.75" cryogenically heat-treated D2 stainless steel blade. Its powerful AT-XR locking mechanism also features built-in blade locking safety and spine-mounted safety system. The next evolution of the field-proven Trident.
Actual product color and options may vary based on what is available when prize is selected.