Retail Value:
$525.00
Donated By:
Springfield Armory
**** Chosen by Winner:
Chad C.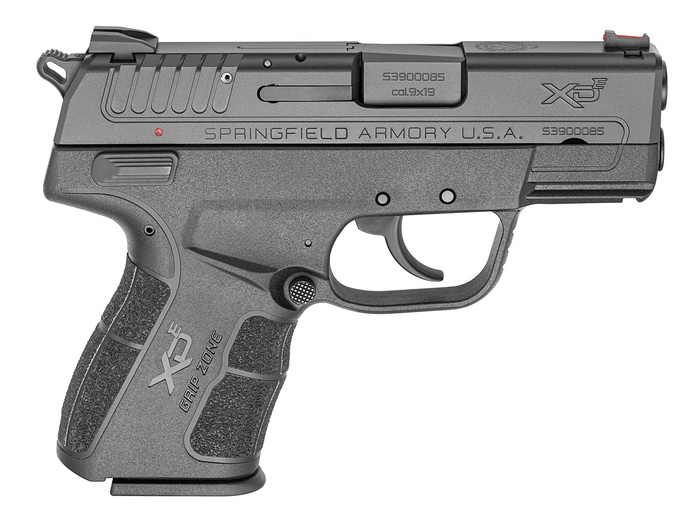 NOTE: Firearm will not be shipped directly to winner, but rather to Federal Firearms Licensee ("FFL") specified by winner (or selected by Knife Rights in Knife Rights' sole discretion). Winner can only take possession of firearm from the FFL. Winner must comply with all applicable legal requirements prior to taking possession of firearm. Winner is responsible for a shipping charge ($40 Pistol Caliber Pistols/$70 Rifle Caliber Pistols and Long Guns) and any fees charged by receiving FFL. Optics and Accessories will ship separately, not via the FFL. Click for complete rules.
The 9mm XD-E™ model sculpts Point & Shoot Ergonomics™ into a sleek polymer frame just an inch wide, for ideal hand and holster fit. The Low Effort Slide (L.E.S.) requires 27% less effort to manipulate compared to striker-fired handguns in the same class. Chambering a round has never been easier thanks to the hammer design, resulting in far fewer slipped pulls, and quicker, possibly life-saving operation when it counts.
There are some tools so basic, you can't imagine being without them. But even essential tools can be refined and improved.
That's the principle behind the new XD-E™: the best elements of the world-renowned XD® Series, condensed into a weapon so intuitive, comfortable and accurate, you can't imagine being without it.
The XD-E™ sculpts unmatched Point And Shoot Ergonomics™ into a sleek frame just an inch wide, for hand and holster fit so satisfying you'll take it everywhere. The low-effort slide practically racks itself, so handling's a pleasure. The exposed hammer clearly shows gun mode, and the single/double action trigger shows respect for your shooting style, unlike other compacts.
Then there's the grip: GripZone® provides active texture that matches your grasp like a handshake, improves stability, and feels incredible. Three magazine options let you personalize concealability and capacity. Impeccable feel, weight and balance launch the XD-E™ from invisible to impactful in an instant, for go-anywhere confidence unlike any you've felt.
New shooter or skilled gunner, wrap your mitt around the new XD-E™ and you'll know. This is more than a hammer. It redefines what your hammer should be.
The hammer – the most important tool in the toolbox.
SKU: XDE9339BE
Caliber: 9mm
Recoil System: Dual Spring w/ Full Length Guide Rod
Sights: Fiber Optic Front, Low Profile Combat Rear (Steel)
Weight: 25 oz
Height: 5" w/ Flush Magazine, 5.25" w/ Magazine X-Tension™
Slide: Forged Steel, Melonite®
Barrel: 3.3" Hammer Forged Steel, Melonite®
Length: 6.75"
Grip Width: 1"
Frame: Black Polymer
Magazines: 1 - 8 Round w/ Grip X-Tension™, 1 - 9 Round w/ Mag X-Tension™
Trigger Pull: Double Action / Single Action