Retail Value:
$299.95
Donated By:
Spyderco
**** Chosen by Winner:
Aaron C.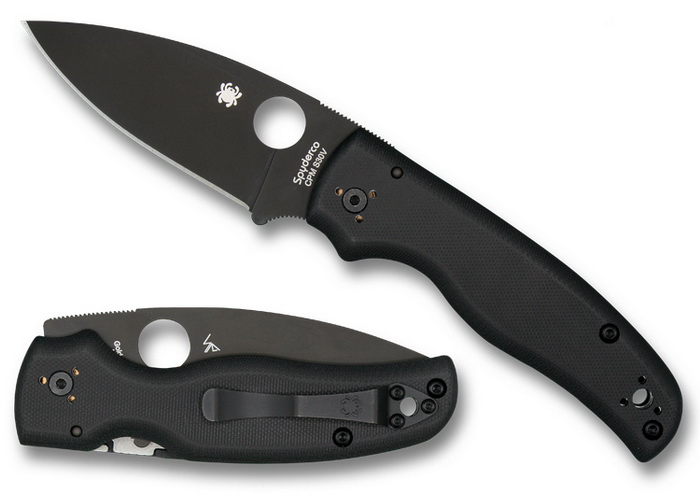 The Shaman is a hand-filling, no-nonsense folding knife based on the proven design theme of the iconic Spyderco Native. About 20 percent larger than the Native, it offers the same refined ergonomics, as well as a few significant differences.
Available with either a PlainEdge or fully serrated SpyderEdge (this is a plain edge), the Shaman's blade is crafted from CPM S30V stainless steel and features a very high flat grind that balances strength, low-friction edge geometry, and an acute, utilitarian point. Its signature Trademark Round Hole™ is fully accessible from both sides to support swift, one-handed opening with either hand. For tactical applications where light discipline is a concern, this version of the Shaman also boasts a non-reflective black Diamond Like Carbon (DLC) blade coating.
Although the Shaman's handle shape and ergonomics follow the spirit of the Native, its construction and lock mechanism are distinctly different. The scales are 3-D machined from G-10 and thoughtfully contoured to provide a comfortable, secure grip. Skeletonized stainless steel liners nested within the smooth, matte-finished scales reinforce the handle's structural strength and form the basis of the knife's patented Compression Lock™. To ensure convenient carry and keep the knife poised for immediate access, the handle includes a four-position pocket clip that supports left or right-side, tip-up or tip-down carry. Like the blade, the clip and all handle hardware feature a non-reflective matte black coating.
Overall Length: 8.25" (210 mm)
Blade Length: 3.58" (91 mm)
Steel: CPM S30V
Closed Length: 4.67" (119 mm)
Edge Length: 3.12" (79 mm)
Weight: 5.2 oz (147 g)
Blade Thickness: 0.145" (3.7 mm)
Handle: G-10
Clip Position: Ambi
Tip Carry Position: Tip-Up/Down
Lock Type: Compression
Grind: Full-Flat