Donate to Win
State & Union Red Spacer USMC KA-BAR PLUS a USMC KA-BAR to use! One for SHOW, One for GO!
Total Retail Value:
$359.96
Donated By:
KA-BAR
**** Chosen by Winner:
William L.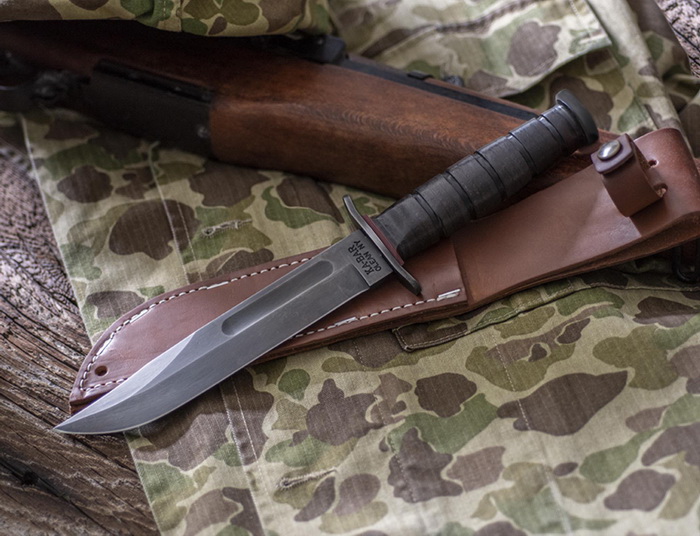 State & Union is KA-BAR's custom shop. The Red Spacer KA-BAR ($225.00) is arguably the most collectible KA-BAR Knife made during World War II. The distinct red spacer below the hand guard and above the leather washer has caught the eye of collectors for decades. Though originals are rare and expensive, KA-BAR's State & Union shop has made a small batch of this iconic knife. The leather washers are shaped by hand and dyed to create an aged appearance. The pommel is ground down to replicate the dimensions of the original. Each red spacer is hand made to be slightly longer than the current spacer used on KA-BAR Fighting/Utility Knives. The blade is sandblasted, then cold gun blued. The sheath undergoes an ageing process to darken the leather and match the original sheath color.
Weight: 0.9 lb
Blade Length: 7.125 inches
Overall length: 12.125 inches
Edge Angles: 20
Tang Stamp: KA-BAR/USMC
Knife Material: 1095 Cro-Van
Grind: Flat
Blade Thickness: 0.167 inches
Blade Width: 1.25 inches
Handle Material: Leather
Rockwell Hardness: 56-58
Knife Manufactured In United States
Leather Sheath Manufactured In USA

USMC KA-BAR, Straight Edge ($134.96)
The most famous fixed blade knife in the World. Our KA-BAR was designed to serve our troops during World War II and is still doing its job, with honors, 70+ years later. Tang stamped USMC. Leather sheath included.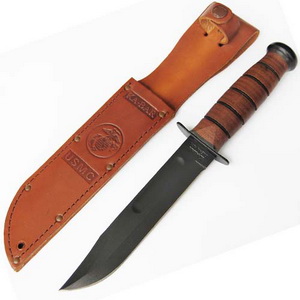 Specifications
Weight: 0.68 lbs
Blade length 7"
Overall length 11-7/8"
Grind: Flat
Shape: Clip
Handle Material: Leather
Stamp: USMC
HRC: 56-58
Edge Angle: 20 Degrees
Butt Cap /Guard: Powdered Metal / 1095 Carbon
Steel: 1095 Carbon
Sheath: Leather
Knife Manufactured In United States
Leather Sheath Manufactured In USA