Donate to Win
Custom Alice Carter Engraved, Owen Wood & Johnny Stout Collaboration Vaquero Double Action Automatic
Retail Value:
$8,500.00
Donated By:
Johnny Stout, Owen Wood, Alice Carter & Fine Turnage Productions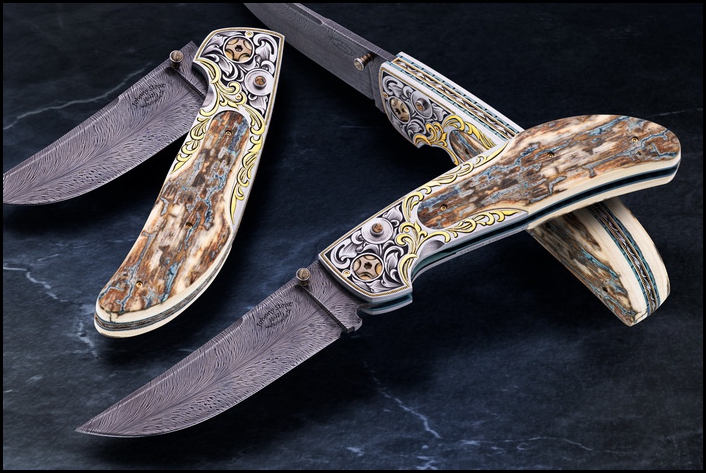 Awaiting Knife. Pictured is an example of a Johnny Stout Vaquero Double Action Automatic previously donated to Knife Rights.
NOTE: It is not legal for residents of California, Hawaii, Illinois, New York and New Jersey to receive this prize due to these states' ban on ivory trade that includes 10,000-year-old fossil ivory. Click for complete rules.
NOTE: Restrictions on delivery of automatic knives in accordance with federal and state laws apply. Click for complete rules.
This is a collaboration project specifically for Knife Rights' Ultimate Steel™ led by knifemaker Johnny Stout. Owen Wood donated his extraordinary Damascus for the blade and bolsters. Alice Carter is donating her exquisite engraving and gold inlay.  Charles Turnage donated the Mammoth Ivory. 
The knife is expected to be finished early Summer and a photo will be posted as soon as available.


Johnny is building Knife Rights one of his his renowned "Vaquero" Double Action Automatics.The 3.75-inch trailing point blade will be ground from Owen Wood's dramatic XXXX pattern Damascus (an example of a similar Owen Wood Damascus on another auto from Stout shown).
Exhibition-grade, museum fit Mammoth Ivory grip scales, donated by Fine Turnage Productions, will finish off the 4.875-inch long handle, for an overall length when open of 8.562 inches. The titanium liners will be jeweled and hand-file worked, then anodized. All the fasteners will be 24K gold plated.
The Owen Wood XXXXX pattern Damascus will provide a dramatic canvas for Alice Carters elegant engraving and 24K Gold inlay.
"Double Action" means that the blade can be deployed automatically with the push of the Mammoth inlaid 24K Gold button in the handle or the blade can be opened manually using the Mammoth inlaid 24K Gold thumb stud.  Blade lock-up is via a liner lock.

A Johnny Stout logo embroidered zippered pouch is provided.