Retail Value:
$1,995.00
Donated By:
a Knife Rights Supporter
**** Chosen by Winner:
Nathan S.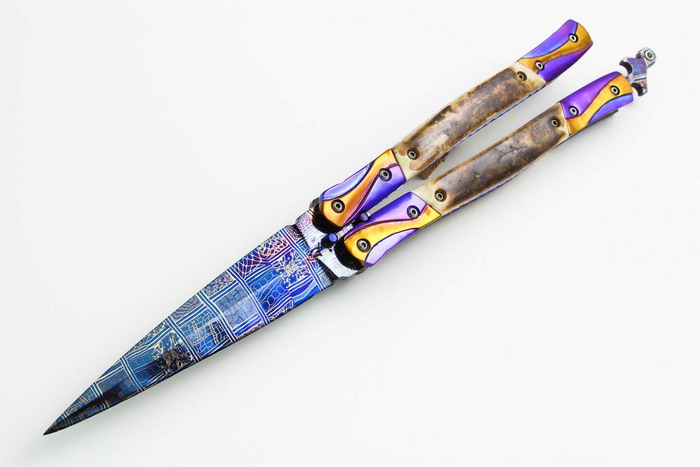 (This balisong was donated back to Knife Rights by the original winner)
This Suchat balisong features a 3.75-inch Robert Calcinore Mosaic Damascus blade and anodized titanium and mastodon ivory handles. Anodized titanium clip. Spring release mosaic damascus latch with ruby insets. File work all around liners.
Suchat's balisongs received rave reviews in the August 2012 issue of Blade Magazine, the article "The Fixed Blade That Folds" pictured this same model balisong by Suchat on the inside cover. The article stated: "Balisongs range from the Spartan to the sublime. An example of the latter is the model by Suchat Jangtanong." Then, in the November 2012 issue of BLADE he was featured in the Knifemaker's Showcase.
As featured in the August 2012 issue of Blade Magazine, a total of five of this model balisongs were made. This is numbered "2" on interior and is marked "BLADE 2012."
Blade Length: 3.75"
Blade Steel: Robert Calcinore Mosaic Damascus
Closed Length: 5.25"
Overall Length: 8.75"
Handle: Anodized Titanium and Mastodon Ivory
Clip: Tip Down
Weight: 4 oz.