Donate to Win
Taurus G3C Compact Pistol (9mm) PLUS Crimson Trace CMR-206 Rail Master Universal Green Laser Sight
Total Retail Value:
$609.98
Donated By:
Taurus Holdings Inc. and Crimson Trace
**** Chosen by Winner:
Cristian H.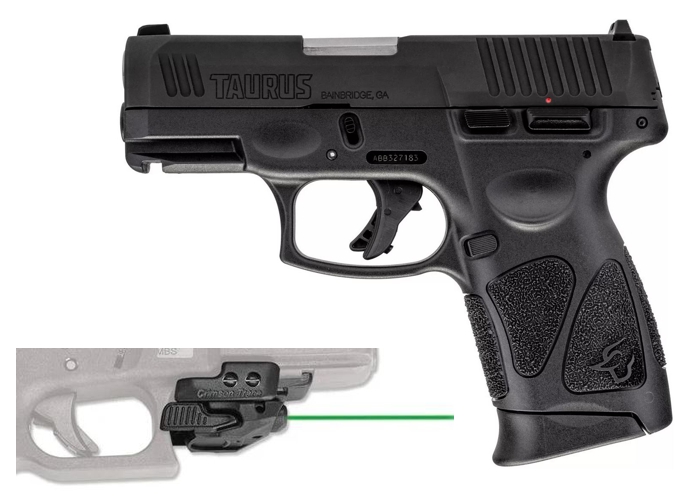 NOTE: Firearm will not be shipped directly to winner, but rather to Federal Firearms Licensee ("FFL") specified by winner (or selected by Knife Rights in Knife Rights' sole discretion). Winner can only take possession of firearm from the FFL. Winner must comply with all applicable legal requirements prior to taking possession of firearm. Winner is responsible for a shipping charge ($40 Pistol Caliber Pistols/$70 Rifle Caliber Pistols and Long Guns) and any fees charged by receiving FFL. Optics and Accessories will ship separately, not via the FFL. Click for complete rules.
The Taurus G3c ($339.99) builds on the proven foundation that has made the compact G-series among the most popular personal defense/EDC handguns ever while advancing function, reliability, and durability to the next level.
Furthermore, the G3c enters the market at a price point that continues the Taurus G-series handguns' industry leading cost-to-performance ratio. All the features of the original striker-fired full-size. Now available in an EDC-friendly compact frame. The all-new Taurus® G3c delivers the ultimate balance of power and performance for any self-defense situation.
Caliber: 9MM LUGER
Capacity: 12+1 Rounds
Front Sight: Fixed
Rear Sight: Drift adjustable
Magazines Included: 3
Action Type: SA w/Restrike
Barrel Length: 3.20 In.
Overall Length: 6.30 In.
Overall Height: 5.10 In.
Overall Width: 1.20 In.
Overall Weight: 22.00 Oz. (Unloaded)
Twist Rate: 1:10 - in RH twist
Grooves: 6
Frame Material: Polymer
Frame Finish: Black
Slide Material: Alloy Steel
Slide Finish: Tenifer Matte Black
Barrel Material: Stainless Steel
Barrel Finish: Matte Stainless
Safety: Loaded Chamber Indicator, Manual Safety, Striker Block, Trigger Safety
The CMR-206 Rail Master® ($269.99) is compact, yet powerful, universal green laser sight designed to fit rail-equipped pistols, rifles and shotguns. The laser sight fits onto virtually any firearm with a modern (M1913 Picatinny or Weaver-style) accessory rail. Ambidextrous control tabs allow the user to instantly activate or deactivate the laser.
The human eye processes the color green more effectively than any other color, and Crimson Trace offers the brightest green laser allowed by law, (5mW peak, 515nm, Class 3R). The CMR-206 Rail Master boasts 2 hours of (constant) run time on a single 1/3N Lithium battery, and features a 5 minute auto shut-off for power conservation.
The unit is quickly and easily user-installed in moments and can be painlessly transferred from firearm to firearm. The CMR-206 is securely fastened using Crimson Trace's Secure Lock Technology (SLT™).
Fits pistols*, rifles, and shotguns with M1913 Picatinny or Weaver-style Accessory Rail. including (but not limited to):
* With a minimum of 1 1/16" from recoil lug.