Donate to Win
Tekna Wilderness Edge Survival Knife System - Desert Tan PLUS Limited Edition Desert Tan Tekna LITE 3 LED Flashlight
Total Retail Value:
$298.95
Donated By:
Tektite Industries
**** Chosen by Winner:
Matthew B.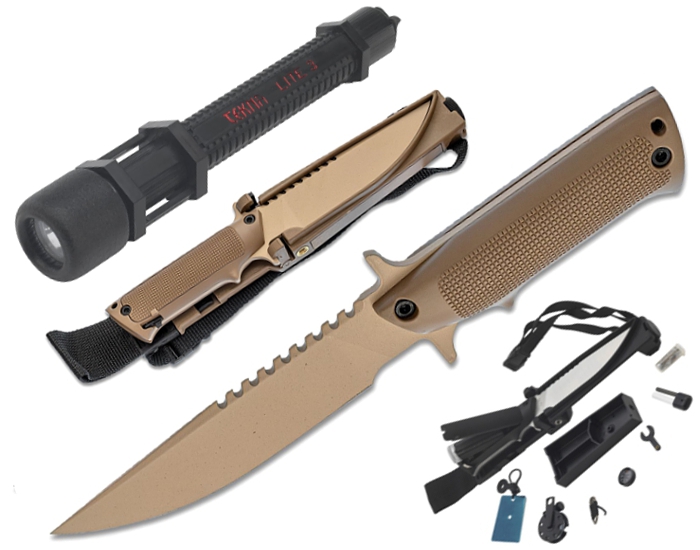 NOTE:  The actual Tekna LITE 3 LED flashlight that winner will receive is a Limited Edition Desert Tan.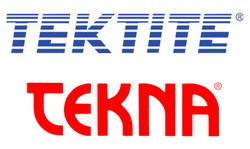 The TEKNA®  Wilderness Edge™ ($249) is the issued survival knife to Air Force pilots in Japan & Poland and featured on the Lost TV series back in the day. The TEKNA®  Wilderness Edge™ improved version is the ultimate survival knife and kit.  You'll never worry about getting lost in the woods again because the Wilderness Edge™ includes everything you need to catch and prepare food, start a fire, find your way, see in the dark and signal for help. Perfect for Military, Scouts, preppers, bushcrafters, and survivalists, or for anyone who just wants to be prepared! It contains the essential gear to save you from a disaster, it could save your life in an emergency. Includes Eagle Claw® split shot, Norweigen Mustad® fishooks, US-made flys.
IMPROVED! This unique and functional set of wilderness/survival accessories all fit in either the handle or the sheath, a 32 piece multifunction survival system, including:
Full tang 10.625" Knife (5.75" blade) with Ripsaw top, 420HC SS, with thumb guards & finger grip

TEKNA LED Splash-Lite submersible flashlight w/20yr. Lithium battery, stores in handle

Fast-release knife sheath; converts to fishing pole w/reel

17 pcs. Fishing tackle; hooks, swivels, fly, weights

Nail- for punching holes in leather & canvas for lacing

2 Safety pins

Thigh strap, doubles as gear strap

Signal mirror w/sight

Small animal snare

Spearhead/Arrowhead

Liquid filled Compass with lanyard ability slot

Magnesium fire starter stick

Ceramic knife sharperner rod

Survival guide fan card (10 pages)

Drilling thumbscrew drills wood & light metal materials
Additional functions
Flashlight lens works as magnifier

Fishhook & line can be used as needle & thread

Thigh strap can be used as tourniquet

Full tang knife butt can be used for light hammering
Knife Specifications
Blade Length: 5.75"
Cutting Edge: 5.05"
Handle Length: 4.875"
Overall Length: 10.625"
Blade Material: 420HC Stainless Steel
Blade Thickness: 0.169"
Blade Grind: Flat
Handle Material: ABS Plastic
Handle Thickness: 1.19"
Sheath Material: ABS Plastic
Weight: 7.4 oz.
Weight with Sheath: 14.4

The Tekna LITE 3 LED ($49.95) is the perfect flashlight for emergencies and disaster preparedness. The TEKNA® Lite 3™ produces more than 20 hours of light from 3 AA Alkaline batteries giving you all the light you'll need for tasks. The narrow spot beam throws a long distance, too. This waterproof, twist-on light will never need a bulb replacement since its Hi-Power LED is shock resistant and lasts 10,000+ hours. Double O-ring seal gives this light an underwater depth rating of 1,000 feet (300 m). Includes, at no additional cost, a glare guard/candle stand and bungee wrist lanyard.
NOTE:  The actual Tekna LITE 3 LED that winner will receive is a Limited Edition Desert Tan version of this flashlight.
Specifications
Twist-on head
Depth Rating: 1,000 feet (300 m), IP68M
Lamp: Hi-Power LED
Lamp Life: 10,000+ hours
Burn Time: 20+ hours
Batteries: 3 AA Alkaline (included)
Power: 250 Lumens
CE (European Union compliant)
Materials: ABS and LEXAN®
Dimensions: 7.75" (20 cm) L x 1.25" (3 cm) Dia.
Weight: 0.28 lbs. (0.13 kg)
Lifetime Warranty
Made in the U.S.A. (complies with the "Buy American Act", may contain imported components).