Donate to Win
Mid-Tech Brian Tighe & Friends: Limited Edition Blue Twist Tighe Clip Point OTF Automatic Knife
Retail Value:
$370.00
Donated By:
Brian Tighe & Friends
**** Chosen by Winner:
Tim R.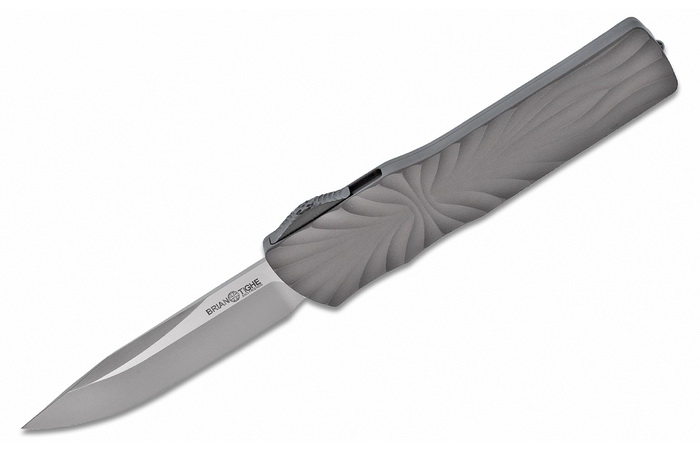 NOTE: Restrictions on delivery of automatic knives in accordance with federal and state laws apply. Click for complete rules.

Brian Tighe and Friends is Brian's mid-tech line which brings innovative and advanced technology to the knife market. They make professional-grade quality folding knives, made in the USA, and each piece is assembled by hand. Every Brian Tighe and Friends knife carries a distinctive Brian Tighe trademark look that features original locks and designs that combine tactical precision and metallurgy artistry.
No stranger to automatic knives, Brian has been making push-button side openers for years but the Twist Tighe is his first out-the-front design. Making its debut at the 2019 Las Vegas Custom Knife Show, this is a stylish working knife built to rival current OTF knives. And we must say, the Twist Tighe does just that.
This slender, ergonomic, beautifully milled piece of tactical art is built for battle but perfectly suited for everyday carry as well. It features a CPM-S35VN stainless steel blade, milled aluminum frame,  ceramic ball pocket clip, G10 thumb slide, and glass breaker butt end. The traction on the thumb slide and aluminum frame is excellent, providing great harmony between user and instrument.

This particular knife has a limited edition anodized blue handle and a DLC-coated blade.  We'll post a photo of the actual knife as soon as we get it.
Specifications:
Blade Length: 3.75"
Cutting Edge: 3.55"
Closed Length: 5.25"
Overall Length: 9.0"
Blade Material: CPM-S35VN Stainless Steel
Blade Thickness: 0.125"
Blade Style: Clip Point
Handle Material: Milled Aluminum
Handle Thickness: 0.46"
Locking Mechanism: Slide
Pocket Clip: Aluminum (Tip-Down, Right Carry)
Weight: 4.2 oz.