Total Retail Value:
$475.93
Donated By:
Tipton
**** Chosen by Winner:
Toni W.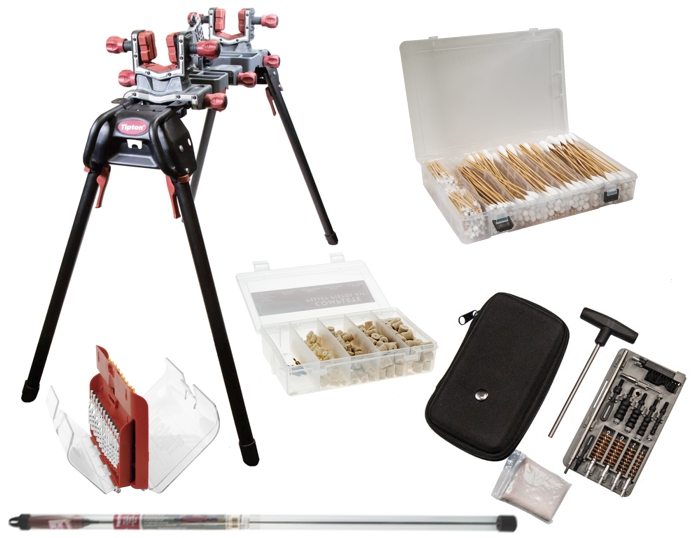 The good folks at Tipton have put together a great Gun Care Package with an assortment of gear and supplies to make cleaning your firearms a breeze.
Ultra Gun Vise ($173.99) The Tipton® Ultra Gun Vise features a completely modular interchangeable design to allow virtually any shape firearm or crossbow to be cleaned and worked on with ease. The ball and socket articulating clamp pads allow for the pads to adapt to any surface. The dual clamp technology rigidly holds any firearm shape in place, while the rigid steel tube frame structure allows for complete access to your firearm or crossbow. The front and rear clamps are both height and length adjustable, and feature fast-turn knobs allowing for quick clamping. The solvent-resistant accessory and tool trays are movable and removable to stand up to even the toughest jobs
Universal Gun Maintenance Stand ($108.99) The Universal Gun Maintenance Stand works with any Tipton gun vise. Make your gun vise accessible while standing so you can comfortably and completely access your firearm while cleaning. Legs are collapsible, so you can easily store it when it's not in use. Tipton's proprietary Universal Gun Maintenance Stand is specifically engineered to clean accurately and efficiently, so you can get back to shooting.
Tipton Compact Pistol Cleaning Kit ($27.99) Hold the power to clean multiple handgun calibers in the palm of your hand with the Tipton Compact Pistol Cleaning Kit. This kit comes in a semi-rigid, zippered carry case and can be used on handgun calibers ranging from .22-.45. Whether you travel a lot, clean at the range, or like to be organized at home, this kit is the perfect size for storing in small spaces and durable enough to take anywhere.
For use on pistol calibers ranging from .22-.45
Semi-rigid carry case
Collapsible cleaning rod with rotating T-handle
Stainless steel cleaning rod
Includes: Cleaning pick, (10) cotton cleaning patches, nylon cleaning brush, bronze bore brushes and nylon jags (.22 cal, 9mm/.357/.38 cal, .40/10mm cal, .45cal), (2) nylon slotted tips
Felt Cleaning Pellets ($46.99) This complete Pistol Pellet Kit includes an array of our Felt Cleaning Pellets in all your essential pistol calibers. Our Felt Cleaning Pellets are manufactured from heavy felt and provide a consistent fit in lands and grooves of firearm barrels than traditional cleaning patches. These pellets remove dirt and lead residue from the barrel with ease. With regular use they will help maintain accurate performance of every firearm.
Compressed felt pellets: 100 count of .22 cal pellets / 50 count of 9mm, .40 cal, and .44/.45 cal
Pellets are tough and durable for superior cleaning and are easier to use than patches
Each pack includes 1 caliber-correct nickel plated jag
Available in a multi-caliber pistol kit with assorted pellets and jags
Provides more consistent fit in lands and grooves of rifling for superior cleaning
1-Piece Carbon Fiber Cleaning Rod 22-.26 Nosler ($46.99)  Caliber: .22 - .26. Length: 36". Carbon fiber is well-suited to the tough tasks assigned to cleaning rods. It combines the best features of stainless steel and coated cleaning rods, then adds valuable properties of its own. Stainless steel rods can scratch or wear barrels if they're used carelessly - though they won't pick up potentially damaging small abrasive particles. "Coated" rods get part of the job done - they keep the stainless steel shaft from damaging your barrel's rifling, but the coating will pick up small abrasive particles, which means you're effectively running fine grit sandpaper through your bore.
Features:
Hang hole for easy storage. also allows for reasonable hammer blows to clear a stubborn patch
Two sets of high quality bearings that will not bind under pressure and allows the shaft to follow the rifling
Comfortable ergonomic shape. handle remains fixed in your hand while the shaft rotates on the bearings to follow rifling
Shank-through construction for working tight light patches
Carbon fiber shaft will not embed particles that could damage your rifle bore
Ultra Jag / Brush Set ($45.99) Combining the Ultra Jags and Best Bore Brushes into one convenient 26-piece set gives you the ultimate storage system for your brushes and jags . Neatly organized in a durable hinged box with marked cavities, it's easy to select the correct jag and brush for the job. Since they are caliber-specific you can be assured of an optimum fit to your firearm's bore for efficient and thorough cleaning. 17 to 45 caliber (does not include 20 caliber). All jags and brushes have 8-32 threads (17 caliber has 5-40 threads and is a standard bore brush)
Power Swabs Pistol Cleaning Kit - QTY 500 ($32.99) Durable cotton swab construction with 7.5″ flexible bamboo handle
Tipton's new Power Swabs are an essential part of your cleaning kit. They're disposable, fast, and easy to use, plus they provide no-mess cleaning with all your favorite solvents and oils. They also fit lands and grooves better than a patch for maximum cleaning.
Kit Includes:
50 count of .22cal, 9mm, .40cal, & .44/.45cal swabs
100 count of general cleaning tip swabs
100 count of pointed tip swabs