Total Retail Value:
$559.92
Donated By:
American Outdoor Brands' Tipton
**** Chosen by Winner:
Michael A.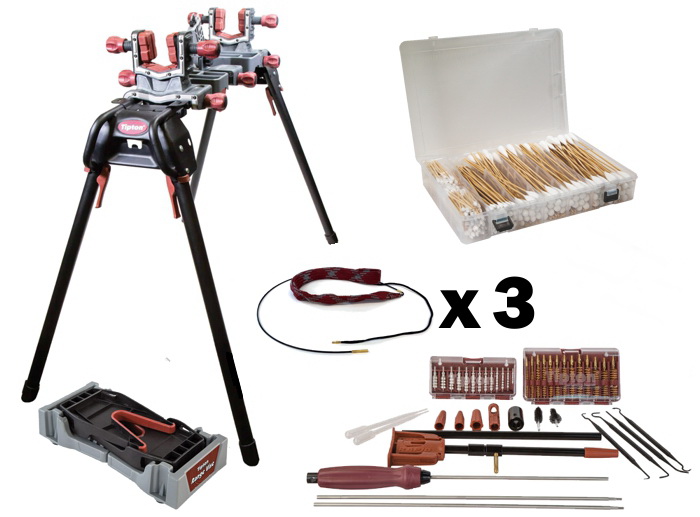 Ultra Gun Vise ($189.99) The Tipton® Ultra Gun Vise features a completely modular interchangeable design to allow virtually any shape firearm or crossbow to be cleaned and worked on with ease. The ball and socket articulating clamp pads allow for the pads to adapt to any surface. The dual clamp technology rigidly holds any firearm shape in place, while the rigid steel tube frame structure allows for complete access to your firearm or crossbow. The front and rear clamps are both height and length adjustable, and feature fast-turn knobs allowing for quick clamping. The solvent-resistant accessory and tool trays are movable and removable to stand up to even the toughest jobs
Universal Gun Maintenance Stand ($119.99) The Universal Gun Maintenance Stand works with any Tipton gun vise. Make your gun vise accessible while standing so you can comfortably and completely access your firearm while cleaning. Legs are collapsible, so you can easily store it when it's not in use. Tipton's proprietary Universal Gun Maintenance Stand is specifically engineered to clean accurately and efficiently, so you can get back to shooting.
Compact Range Vise ($31.99) The Tipton® Compact Range Vise offers a completely new level of performance, securely holding the widest array of guns possible while collapsing to fit in a range bag. The compact design is a convenient solution to gun cleaning at the range. The Compact Range Vise collapses to 11-1/4" and fully expands to 17-3/4", making it easy to carry but also fully functional when completely expanded. Six rubber feet provide the vise a very rigid, non-slip base. Two non-marring forks protect your guns' finish while holding them securely in place for cleaning, light maintenance or as an extra set of hands. The Compact Range Vise is extremely durable and is made from high quality, solvent-resistant nylon that will deliver years of lasting performance. Serious shooters know keeping their guns clean is essential to performance, making the Compact Range Vise the perfect range accessory.
Ultra Cleaning Kit ($154.99) The Tipton® Ultra Cleaning Kit was designed for the shooter who wants the absolute highest quality cleaning accessories available in one convenient portable kit. The heart of the kit is a Premium 3 Piece Stainless Steel Cleaning Rod with a multi-bearing handle. The .205" diameter, 40" usable length rod is constructed of 17-4 PH stainless to be extremely durable and resist taking a bend (the problem that plagues most multi-section rods). All the kit components are neatly contained in the molded plastic case with custom die cut foam for organization. For use with .22 Cal and larger rifles.
Power Swabs Pistol Cleaning Kit - QTY 500 ($32.99) Durable cotton swab construction with 7.5″ flexible bamboo handle
Tipton's new Power Swabs are an essential part of your cleaning kit. They're disposable, fast, and easy to use, plus they provide no-mess cleaning with all your favorite solvents and oils. They also fit lands and grooves better than a patch for maximum cleaning.
Kit Includes:
50 count of .22cal, 9mm, .40cal, & .44/.45cal swabs
100 count of general cleaning tip swabs
100 count of pointed tip swabs
Nope Ropes:  Durable pull-through bore cleaning ropes.  Attachable ends allow user to continuously clean without re-feeding end into barrel with each pass. Convenient mess-free storage box. Say nope to carbon, copper, debris, grime and rust.
NOPE Rope 9mm, .380, .38 ($9.99)
NOPE Rope .22, .223, 5.56 ($9.99)
NOPE Rope .30, .308, 30-30,.300 BLK, 7.62  ($9.99)