Retail Value:
$6,420.00
Donated By:
Tollie's African Safaris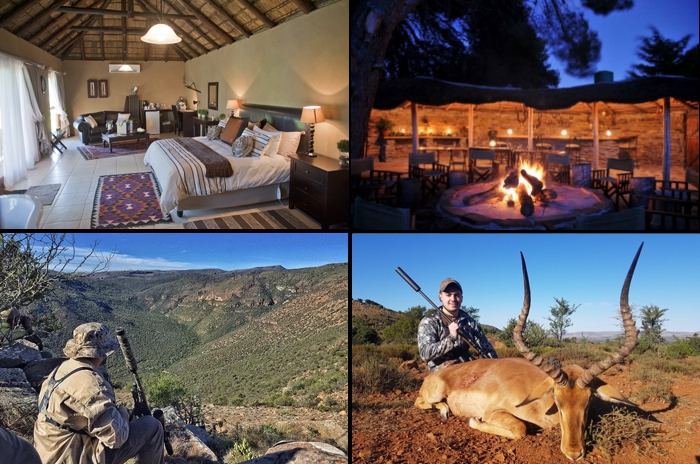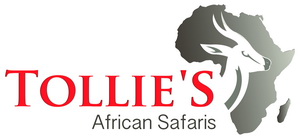 An extraordinary African adventure awaits. You will enjoy the gracious South African hospitality of Tollie and Karen Jordaan for seven days (five hunting days, no hunting on arrival day or on Sunday) while hunting for three wild African animals. License and trophy fees included for: 1 Impala, 1 Blesbuck, 1 Springbuck. Accommodations for one hunter included. Additional companion(s) extra, contact Tollies for details.

Other species and extra days may be added at the regular US$ daily rates and trophy fees. 30 Species available. As a special additional consideration, companion and children can hunt with you at the observer daily rate (US$210 each). See web site for details: www.huntinginafrica.website. On Sunday you have the option of a visit to to Addo Elephant Park (US$250/person) OR you can relax and have a barbecue.
NOTE: Roundtrip airfare to Port Elizabeth, South Africa, is the responsibility of the winner. At the time of this posting, the lowest economy airfare was approximately US$900 round trip per person from the U.S. (JFK - PLZ) on South African Airways. Other airlines will typically cost more. Scroll down for complete list of inclusions and exclusions.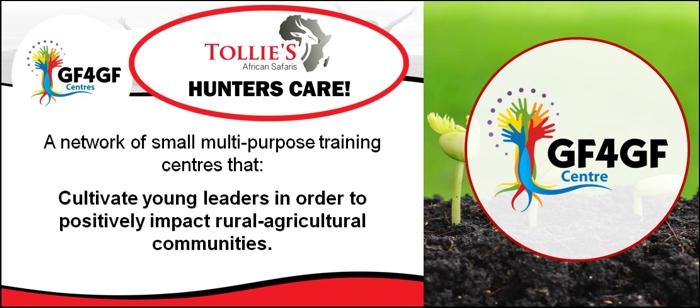 Tollle's African Safaris is a proud supporter of GF4GF. These centres are working to nurture young people to prepare them to be productive members of the community with strong values and work ethics.  GF4GF is dependent on donations to fund infrastructure, care and training. Tollie's guests and hunters traditionally visited the local centre at some point during their visit and have been extraordinarily generous in their support. Modest donations have a huge impact on these children's lives and future. Click here for more information on how you might help support these children, whether as a visiting Safari Winner or as a caring person.
2016 Ultimate Steel™ Tollie's African Safaris Winner - 6 of 7 Taken
"Tollie's was amazing, great people, great time and great hunting.
Trip of a lifetime!" - Jamie S.
Eland - Blesbok - Springbuck
Impala - Blue Wildebeest - Nyala
2015 Ultimate Steel™ Tollie's African Safaris Winner
"It was amazing in every respect. Great place, great family, great hunting!" - Mark S.
who allowed his son to do all the hunting
Black Wildebeest - Gensbok - Impala
Kudu
2014 Ultimate Steel™ Tollie's African Safaris Winner - Just two of a six taken.
Impala - Black Wildebeest
2012 Ultimate Steel™ Tollie's African Safaris Winner & Son
Gemsbuck - Cape Buffalo - Sable
White Springbuck - Copper Springbuck - Black Springbuck
NOTE: Due to the requirement for travel and other expenses on the part of the winner, tickets will continue to be drawn until this prize is chosen or all tickets have been drawn. NOT TRANSFERABLE.
Prize package includes:
The services of an experienced professional hunter and his staff, including trackers and skinners.

All concession fees in South Africa.

All hunting licenses in South Africa.

A fully equipped hunting vehicle per professional hunter.

Field preparation of trophies.

Full accommodation and meals for one person.

Excellent cuisine including ample fresh produce and fruit.

Spirits, wines, beers and soft drinks.

Every second day Laundry Service.

Five hunting days, no hunting on arrival day or Sunday

Arrival is Day 1 - Departure is Day 7
Prize package DOES NOT INCLUDE:

Airport pickup and drop-off $250

Airfares: international, national or charter.

Additional guests or hunters except for the single one as provided above.

Trophy fees of animals killed, wounded and lost, except for the three included in the package.

Any costs arising before or after scheduled pick up or departure.

Freight charges for shipment to USA or any other country, customhouse broker fees, insurance, inland freight from airport to taxidermy studio or tannery or to your home.

Staff gratuities. Normally in the region of US$30 per day for staff (this includes trackers, skinners, cook, cleaning ladies, laundry ladies.) Tips for PH varies from US$90 - US$150 per day.

For those who do not have a suitable rifle, one is available at US$250 for your hunt.

Dip and pack - or you can have them mounted with us, see African Pride Taxidermy.

Tollie's can make arrangements to video your hunt, contact Tollies for details.