Retail Value:
$230.00
Donated By:
TOPS Knives
**** Chosen by Winner:
Robert F.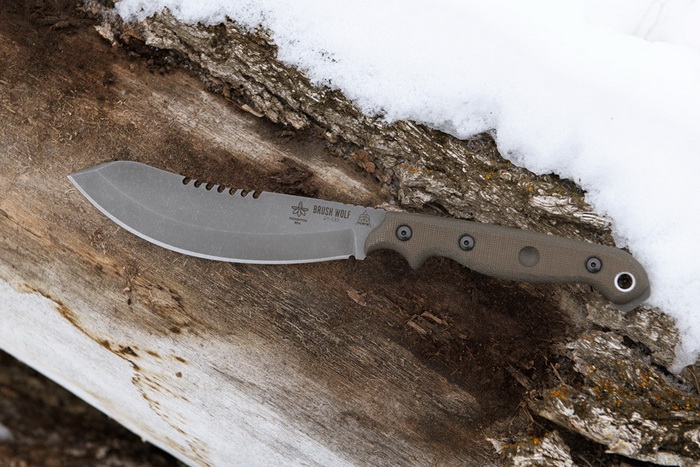 The Brush Wolf was designed while considering the diverse environments coyotes traverse. They can be spotted deep in the forest, open fields, deserts, grasslands, swamps, cities, and even the alley behind your local Starbucks. The Brush Wolf was designed by Aaron and Nate Morgan of Houghton Era after a few tracking excursions in some viaducts in Detroit, MI. The two brothers grew up skateboarding there and became attracted to the remnants of coyote activity they were finding at some of the skate spots. Coyotes are known by many names, Song Dogs, Tricksters, Shape shifters, gods of the threshold. The Brush Wolf will help anyone thrive in those liminal spaces on the edge of the city, and in new territory you've yet to explore.
This knife nods at the traditional Nessmuk style blade but comes with some technical features as well. If you can't steal fire like the coyote, you'll likely not fail with the 90 degree spine section located right above the soft jimping, or the bow drill notches located on each side of the handle. Its Nessmuk shape combined with a high saber grind make it a superior blade for processing wood and skinning game. The swedge found on the tip makes for a much finer point for boring holes in wood or a hide. The Brush Wolf also comes with a section of teeth along the spine that mimic that deceitful grin coyotes give. The saw is excellent for gnawing into bone or quick notches for various traps and tools you might make in the field. The Brush Wolf is a knife meant to draw us to the wild. It implores us to explore with our tools respectfully and change the shape of the world around us.
TOPS Knives Brush Wolf ($230):
Overall Length 12.13"
Blade Length 6.50"
Cutting Edge 6.25"
Blade Thickness 0.190"
Blade Steel 1095 RC 56-58
Blade Finish Acid Rain
Handle Material Green Canvas Micarta
Knife Weight 11.7oz
Weight w/ Sheath 17.7oz
Sheath Included Yes
Sheath Material Brown Leather
Sheath Clip Dangler
Designer Aaron and Nate Morgan