Total Retail Value:
$415.00
Donated By:
Tops Knives
**** Chosen by Winner:
Luke R.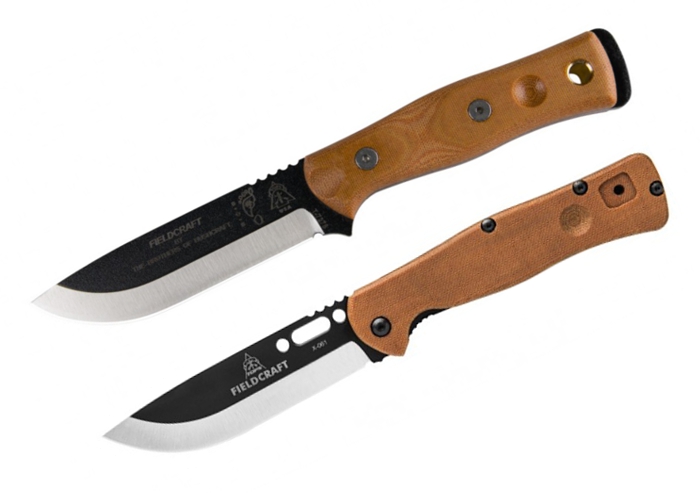 Fieldcraft by The Brothers of Bushcraft ($215)
The Fieldcraft Knife was designed by The Brothers of Bushcraft, a coalition of men across North America focusing on sharing wilderness living skills of all categories. From tracking, to building shelters, the Brothers of Bushcraft make it a point to show the skills to all people, of all ages, from all over.
The Fieldcraft Knife is the culmination of their knowledge, combining experiences from; the broad and humid rain forests, the arid and scorpion-littered deserts, and the frigid northern lands that span the Americas.
The knife is 10 inches long in total, with a blade length of 4 1/2 inches. This makes a compact, but extremely serviceable knife. The Fieldcraft's blade is 3/16" thick, and made of 1095 High Carbon steel. The cutting edge is a modified Scandinavian Grind, which is very effective for carving, skinning and other general woods work. With a rockwell hardness of 56-58, the ease of sharpening is astounding. That is if you ever get to sharpen the blade. As the hardness and edge geometry work beautifully together to make a long lasting edge.
The handle is one of the most ergonomic ones on the market, sporting several useful additions. Although knives with a lot of frills often end up lacking, the additional items found on the Fieldcraft knife were selected from experience and critiqued in every step of design, development and production. Being made of canvas Micarta, the handle will never let you down. The bow drill divot on the handle is frictionless and makes starting those primitive fires almost effortless. The "Thumb Scallops", formed on the hilt of the handle offer more comfort and control when using specialized carving and skinning grips. The pommel of the blade is simply the tang of the knife exposed enough to allow impact from a baton to not effect the handle (though the Micarta is definitely tough enough to take such abuse). On the exposed pommel, you will find a scraper specially designed by one of The Brothers of Bushcraft, for striking Ferro rods in a safe and efficient manner.
The sheath is a strong, durable Kydex, with a steel belt clip. This arrangement allows a safe, secure and comfortable carry on the belt, pack strap, or even around the neck. With a built in Ferro-rod attachment point, the sheath now doubles as a minimalist survival kit.
The Fieldcraft Knife has had heavy duty abuse, and testing done in the wilderness of Canada, where local survival experts Mors Kochanski, Dr. Gino Ferri, and many others have deemed her a "Serviceable Field Knife". These words are exactly what she is meant to be.
From carving netting needles and trap triggers, to chopping through branches, the TOPS Knives / Brothers of Bushcraft Fielcraft Knife will do just about any chore that you can throw at her in a wilderness survival scenario.
Fieldcraft Folder ($215)
The Fieldcraft by Brothers of Bushcraft fixed blade knife has been a #1 selling knife for TOPS since it was released and it continues to be a top seller even a few years later. Its ergonomics, modified Scandi grind, and heft have made sure that it finds its way into bug-out-bags, daily carry, and camp kits for guys all around the world. There have even been a few used in military trainings and overseas.
The folding version promises to be every bit as popular for the same reasons. While it's larger than many folders out there right now, it carries well with a reversible tip-up pocket clip. We know you'll appreciate a blade longer than 4" in a lot of cases. The blade is made from 1095 high carbon steel. The handles are tan canvas Micarta on top of stainless steel liners. It has nearly all of the usefulness of the fixed blade, now in a folding version.
Note: While the Fieldcraft folder has been tested and abused to ensure a quality product, it is still a folding knife. As such, batoning and many other hard-use techniques that many fixed blades will handle, will not be covered under this knife's warranty.
Fieldcraft Specs:
Overall Length 10"
Blade Length 4.75"
Blade Thickness 0.190"
Blade Steel 1095 RC 56-58
Blade Finish Black Traction Coating
Handle Material Tan Canvas Micarta
Knife Weight 9.6 oz.
Sheath Included Yes
Sheath Material Black Kydex
Designer Brothers of Bushcraft
Fieldcraft  Folder Specs:
Overall Length 9.88"
Blade Length 4.38"
Closed Length 5.5"
Blade Thickness 0.160"
Blade Steel 1095 RC 56-58
Blade Finish Black Ceracote
Handle Material Tan Canvas Micarta
Knife Weight 7.5 oz.
Sheath Included Yes
Sheath Material Brown Lleather
Designer Leo Espinoza