Total Retail Value:
$485.00
Donated By:
TOPS Knives
**** Chosen by Winner:
Joshua T.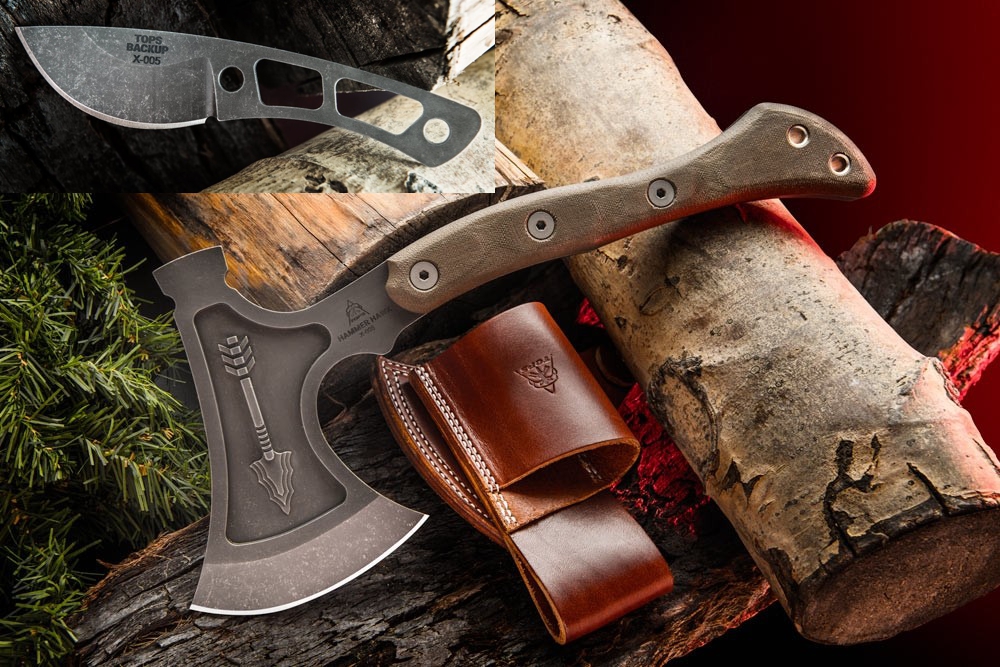 Stock Photo – Camo Finish & Rocky Mountain Tread Handle Options Not Shown

The Hammer Hawk (Retail Value $350) is anything but a normal tomahawk. Power and aesthetics combine to make an epic tomahawk.Throughout the design process, each feature was carefully thought out. It's a full-tang, 3/8" thick piece of 1075, so it is not meant to be a light-weight ax. The 4.5" cutting edge is large enough to perform chopping tasks that most smaller hatchets will not accomplish. The hammer on the back end is also hardened to be used when you need to smash instead of cut. The thick Green Canvas Micarta handles are nicely rounded and go most of the way up the tang to provide for multiple grip options.
The 2-piece leather sheath was also carefully considered. First, the blade cover is separate from the belt frog so that it can be carried on the belt or in a pack. It has two snaps to keep it in place even if you're walking through thick brush. Second, the frog allows you to insert and remove the belt from your hip without removing a belt clip. It's shaped in a way that balances the ax well, and it also includes a pocket to fit the optional TOPS Backup knife or small skeletonized knife of your choice.
This is a serious camp tool that doubles as a survival tool. Keep one in your truck or in your bug-out-bag. You'll be glad you did.
The prize Hammer Hawk includes the Camo Finish  and Rocky Mountain Tread Handle Options (Retail Value $30 Each)

The TOPS Backup (Retail Value $75) was designed specifically to be carried with the Hammer Hawk, but will function great as a backup to any larger knife. Many cutting tasks that people encounter can be done with knives that have short cutting edges. So when the tomahawk is too much, TOPS Backup is there to get it done.
The blade comes in at just over two inches and has a continuous curve throughout to assist in skinning small animals, feather sticking, and other small camp tasks. The Kydex sheath is minimal as is the knife for a super low-profile, light-weight carry.
Hammer Hawk Specs
Overall Length 14.50"
Blade Length 4.50"
Cutting Edge 4.50"
Blade Thickness 0.380"
Blade Steel 1075 RC 56-58
Blade Finish - Camo
Handle Material Green Canvas Micarta - Rocky Mountain Tread
Knife Weight 36.3oz
Weight w/ Sheath 42.3oz
Sheath Included Yes
Sheath Material Brown Leather
Sheath Clip Blade Cover with Frog
Designer Leo Espinoza
Tops Backup Specs
Overall Length 5.00"
Blade Length 2.38"
Cutting Edge 2.38"
Blade Thickness 0.130"
Blade Steel 1095 RC 56-58
Blade Finish Acid Rain
Handle Style Skeletonized
Knife Weight 1.6oz
Sheath Included Yes
Sheath Material Black Kydex
Sheath Clip Neck - none
Designer Leo Espinoza