Donate to Win
TOPS Knives Viking Tactics Norseman autographed by Kyle Lamb PLUS another (unsigned) TOPS Knives Viking Tactics Norseman to use! One for SHOW, One for GO!
Total Retail Value:
$450.00
Autograph PRICELESS!
Donated By:
TOPS Knives
**** Chosen by Winner:
Robert H.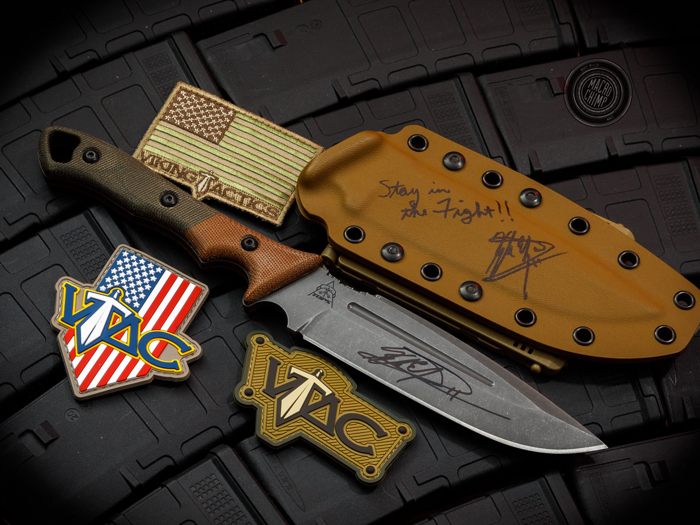 Sergeant Major (retired) Kyle Lamb spent over 21 years in the United States Army, with over 15 of that in 1st SFOD-D Delta Force. He has participated in many conflicts, Desert Storm, Bosnia, Iraq, as well as in the battle made famous by the movie Black Hawk Down in Mogadishu, Somalia. SGM Lamb has received numerous valorous awards and decorations. SGM Lamb is the Founder and President of Viking Tactics, a tactical training and tactical gear business. SGM Lamb also appears on several Sportsman Channel TV Shows and has written a carbine instructional book, Green Eyes and Black Rifles, a Pistol Book, Stay in the Fight, and his latest book Leadership in the Shadows, which highlights his time in the military as well as numerous events from the Law Enforcement world.
---
If you were headed to discover America 500 years before Columbus as Famous Norseman Leif Eriksson did, this is the knife you would have carried. With an overall length of 11.63" and a cutting edge of 5.5", this is the perfect all-around big blade for pillaging, hunting, or conducting modern-day combat operations. It comes with TOPS famous Acid Rain finish on deferentially heat treated 1095. This blade will cut easily and can be field sharpened. The VTAC Norseman has a sexy spine tastefully decorated with a Viking Vine, and Blood Colored handle liners with two-tone Canvas Micarta handles. Drawing inspiration from a knife made by one of SGM Lamb's Soldiers who was killed in action in Iraq on 17 June 2005. Kyle Lamb the Founder of Viking Tactics proudly presents the VTAC Norseman.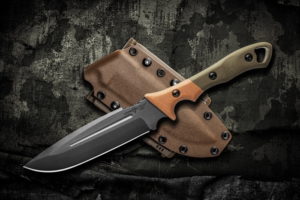 TOPS Knives Viking Tactics Norseman ($225):
Overall Length 11.50"
Blade Length 5.88"
Cutting Edge 5.50"
Blade Thickness 0.190"
Blade Steel 1095 RC 56-58
Blade Finish Acid Rain
Handle Material Tan Canvas/Green Canvas Micarta
Knife Weight 10.1oz
Weight w/ Sheath 14.6oz
Sheath Included Yes
Sheath Material Coyote Tan Kydex
Sheath Clip Molle-Lok Short
Designer Viking Tactics