Retail Value:
$230.00
Donated By:
TOPS Knives
**** Chosen by Winner:
Daniel P.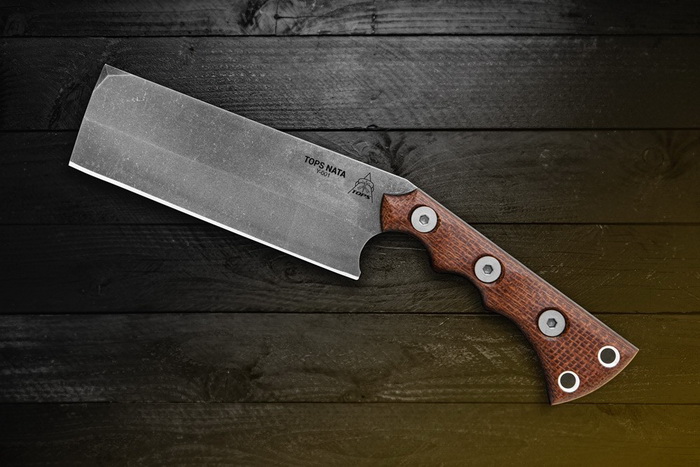 Many useful tools have come from the Japanese over the years. The nata (which translates in this context roughly to hatchet) is one that hasn't seen as much of the limelight as weapons like the katana or EDC tools like the kiridashi. It was used primarily as a gardening tool, pruning or removing limbs from trees, clearing brush, and handling tasks that you might expect from a knife before power tools or modern tools existed. However, the nata's simplistic design compliments its functionality perfectly.
TOPS' version of the Nata blends the traditional Japanese style with American grit. The wide rectangular blade keeps mass behind the entire length of the edge, which makes it chop better than most knives of its size. Chopping power is also enhanced by the canted handle. TOPS version has a standard flat grind on both sides of the blade rather than the chisel or single-beveled style that many Japanese tools have. It is also a full-tang knife just like all TOPS fixed-blades are. The thick, well-contoured handles provide a comfortable grip and the simple out-the-front sheath makes it easy to carry and use around the house, the ranch, the campsite, or wherever else you may find yourself.
SPECS
Overall Length 11.63"
Blade Length 6.50"
Cutting Edge 6.50"
Blade Thickness 0.250"
Blade Steel 1095 RC 56-58
Blade Finish Acid Rain
Handle Material Black Canvas/Brown Burlap Micarta
Knife Weight 21.3oz
Weight w/ Sheath 26.6oz
Sheath Included Yes
Sheath Material Chocolate Leather
Sheath Clip Belt Loop
Designer Leo Espinoza