Retail Value:
$280.00
Donated By:
TOPS Knives
**** Chosen by Winner:
Noah S.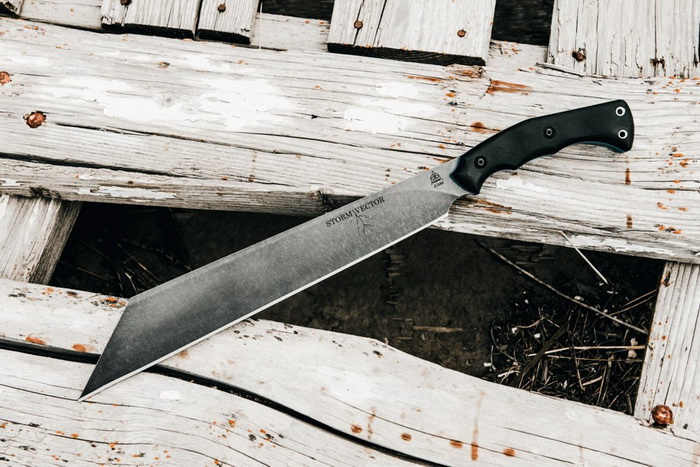 If you would have been around from, oh say 793 AD – 1066, the Seax would have been just as much a part of you as cell phones are today. Young, old, big, small, rich, or poor this tool served as a go-to option for just about everyone and it proved to be just as useful around the house as it was on the battlefield.
The Seax was traditionally anywhere from around 8" all the way up to 30", our version has 12" cutting edge, an overall length of 18.25", and is made out of ¼ inch thick 1095 High carbon steel with our Acid Rain finish.
We chose not to use the bones of our enemies to make our handles and went with Black Canvas Micarta and blue G10 liners instead. We housed our Storm Vector in a black Kydex sheath with an exposed spine and a black leather dangler to give it some mobility. So, when you decide to unleash your inner Warrior, this is the blade for you.
TOPS Knives Storm Vector ($280):
Overall Length 18.25"
Blade Length 12.63"
Cutting Edge 12.00"
Blade Thickness 0.250"
Blade Steel 1095 RC 56-58
Blade Finish Acid Rain
Handle Material Black Canvas Micarta w/ Blue G10 Liner
Knife Weight 24oz
Weight w/ Sheath 32oz
Sheath Included Yes
Sheath Material Black Kydex
Sheath Clip Dangler
Designer Leo Espinoza