Retail Value:
$275.00
Donated By:
TOPS Knives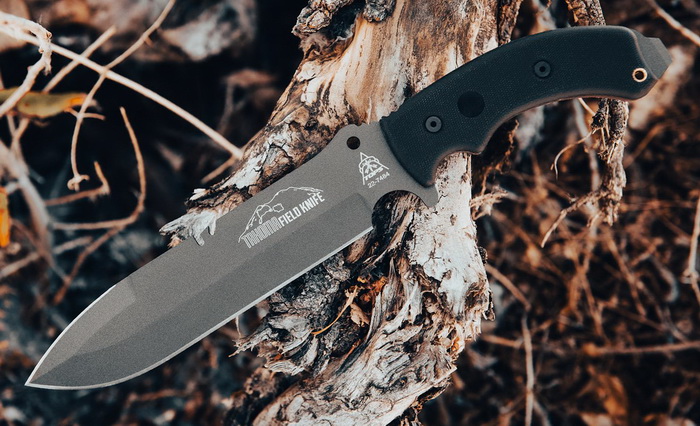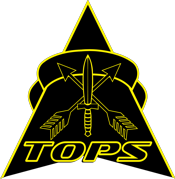 The Tahoma Field Knife is designed to provide anything the outdoor professional would need in a knife.
"My load out for my camera is sometimes 45 lbs, and that's not including any food or equipment for my-self to keep me alive. Designing a knife that would keep my weight down to a minimum and comfortable for all day use was really the goal." said Andy.
His background in tinkering, and fundamental knowledge of physics and human movement was the foundation and basis of development for the Tahoma Field Knife.The tip has a double edge, used as a backup blade in the event the main edge should become dull during an extended period of time without a means to sharpen. The notch on the spine of the blade is used for scoring materials to create a weak point to break, as well as break wire by work hardening it, and pulling pots and similar items out of a fire. The thumb ramp has a hole in it for a forward wrist lanyard popular in cutting contests as well as to aid in lashing the knife to the end of a stick to make a spear. The finger choil makes bringing the hand closer to the blade possible for fine carving tasks. The choil also creates a secondary "tip" for carving or notching. The overall shape of the handle is made for ergonomics and to give the user a better grasp like on a machete. Dual spindle sockets for a bow drill make it safe to use left or right hand operation. On the pommel of the knife is a pry bar, shaped and positioned so that if given a backseat grip on the knife during chopping, it would not cut, or wear into your hand. Every feature is integrated into the knife to work with each other, as well as be instinctual to the user so that it feels like an extension of the body.
Whether you're in the field collecting specimens, or in the field defending freedom, the Tahoma Field Knife is a reliable companion in an uncertain world.
Overall Length 13.94"
Blade Length 7.75"
Cutting Edge 7.31"
Secondary Edge 2.75"
Blade Thickness 0.190"
Blade Shape Spear Point
Blade Steel 1095 RC 56-58
Blade Finish Tungsten Cerakote
Handle Material Tan Canvas Micarta
Knife Weight 19 oz
Weight w/ Sheath 25 oz
Sheath Included Yes
Sheath Material Black Ballistic Nylon
Sheath Clip Molle Backing
Designer Andy Tran