Retail Value:
$230.00
Donated By:
TOPS Knives
**** Chosen by Winner:
Sharon C.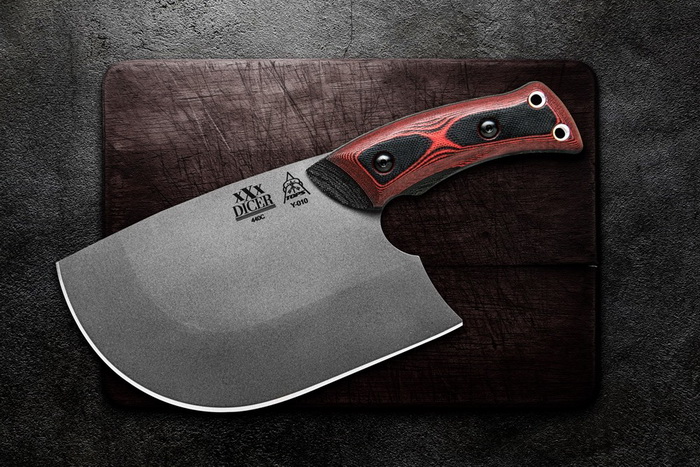 TOPS is dabbling more and more in the kitchen. Aside from the regular Dicer line, the XXX Dicer is a bit of a standalone piece for the kitchen. It's made from a different steel than the rest of the Dicers, and its use is a bit of an enigma. Imagine combining a spatula with a cleaver and a chef's knife.
It's a wide blade, almost 4" at its widest point, with a whole lot of belly. The handle has similar contouring to the Dicer 8 Chef's knife, but it is pushed forward into the blade and designed specifically to provide a comfortable pinch grip when using it. Whether you're cutting meat for tacos, veggies for a salad, smashing garlic, or any other myriad of uses, cut down on food prep time and dirty dishes by using the flat as a spatula. It's a versatile kitchen tool you'll find yourself using on a routine basis.
Specs
Overall Length 8.88"
Blade Length 7.00"
Cutting Edge 7.00"
Blade Thickness 0.130"
Blade Steel 440C RC 58-60 Cryo Treated
Blade Finish Tumble Finish
Handle Material Red/Black G10
Knife Weight 13.6oz
Weight w/ Sheath 16.2oz
Sheath Included Yes
Sheath Material Black Kydex
Designer Leo Espinoza