Donate to Win
Custom Dale Bass Engraved Pete Truncali Bolster Release Damasteel Automatic
Retail Value:
$1,500.00
Donated By:
Pete Truncali & Dale Bass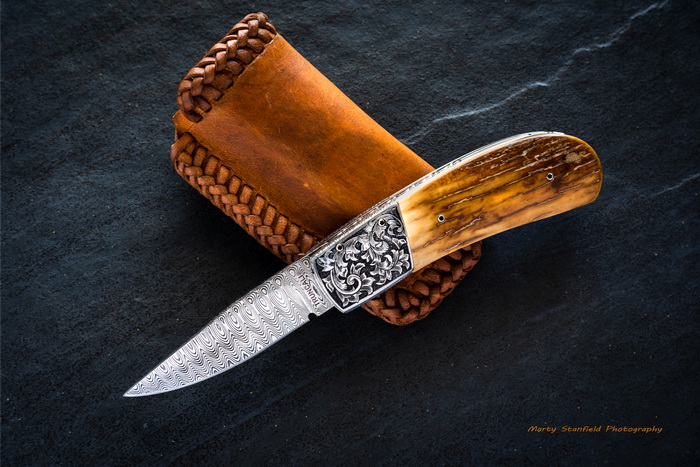 NOTE: It is not legal for residents of California, Hawaii, Illinois, New York and New Jersey to receive this prize due to these states' ban on ivory trade that includes 10,000-year-old fossil ivory. Click for complete rules.
NOTE: Restrictions on delivery of automatic knives in accordance with federal and state laws apply. Click for complete rules.
Longtime Knife Rights supporter Pete Truncali has crafted another one of his beautiful signature bolster-release automatics with a 2.687-inch clip point blade of Hugin pattern Damasteel with Mammoth Ivory Bark scales. It is 3.875 inches closed, 6.5 inches overall. Dale Bass contributed the elegant engraving of the stainless steel bolsters with Pete's hand-fileworked backbar.  Comes with a leather pouch style sheath by the maker.