Retail Value:
$179.95
Donated By:
The Ultimate Knife
**** Chosen by Winner:
Oscar B.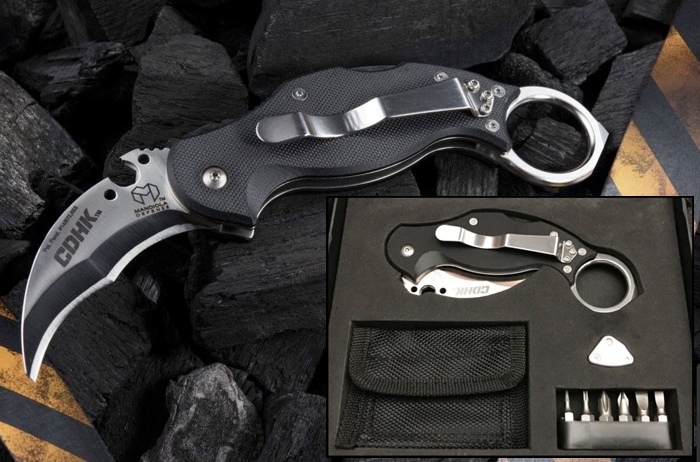 Introducing the CDHK (Cold Dead Hands Karambit) G10 Black Handle Folding Knife. The CDHK Karambit Knife was designed by: Mandiola Defense Solutions, LLC & Mike Vellekamp Knife & Designworks. This knife is Egronomically Perfect !!! This knife will fit Medium to Extra Large Hands. We believe that the CDHK Knife is one of the most unassuming and powerful knives on the market for quality and price for personal use and self defense. Not only that, we now have a very unique Pat. Pending (#14/872,653) that can be used with any 1/4" Vex Drive Tool Attachment that can also be deployed with one hand. With this important and added feature in an emergency or injury situation the knife can be opened with one hand as it is drawn from the pocket.
The CDHK Knife is three tools in one:
1) Survival Utility Knife
2) Screwdriving tool / 6 Hex-Bits Included w/Pouch
3) Self Defense Knife
Blade Style: Talon (Batwing Design)
Blade Edge: Plain (V Grind)
Blade Finish: Brushed Steel
Blade Length: 2.25"
Steel Type: 154CM Stainless Steel (Made in America)
Length Open: 7.0"
Length Closed: 5.0"
Weight: 5.3 oz.
Thickness: 0.12" (3mm)
Pocket Clip: Black Ambidextrous Tip-Up
Handle Material: G-10 (Composite Material)
Handle Color: Black
Locking Mechanism: Back Lock System / w/special Pat. Pending 1/4" Turn to Lock Vex Drive Tool Attachment
Manufacturing Country: Taichung, Taiwan / 154 CM Stainless Steel - Made in America
About the Karambit Folding Knife:
The Karambit is a functional knife first introduced in the Indonesian archipelago. However, some believe that this unique design originated in Malaysia or the Philippines. The knife was originally designed to be a working folding knife and dates back to the 6th century. This unusual but functional design was first introduced into the United States at the end of the 1800s but was only put into use by the mid 1900s. In Europe it was first introduced in 1970 and 1980 for use in several martial arts disciplines like the Indonesian Pencak Silat, the Malaysian Bursilat and the Pilipino Kali. Today the Karambit Folding Knife is the next generation of Folding Knives. With the advantage of the NEW 1/4" Vex Drive Tool Attachment (Patent by Mike Vellekamp Designs), that can also be deployed with one hand!