Donate to Win
ViperSharp Complete Professional Knife Sharpening System
Retail Value:
$560.00
**** Chosen by Winner:
Logan L.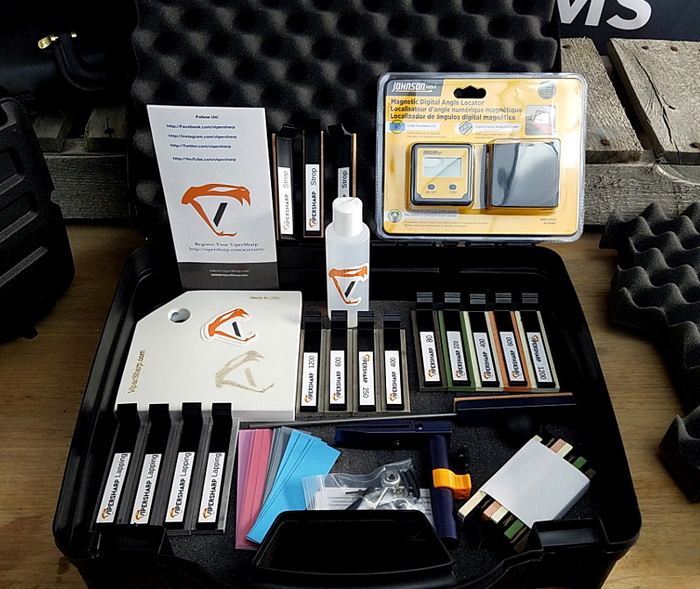 This prize will ship direct from the manufacturer and may be delayed for a few weeks.

NOTE:  This prize will ship direct from the manufacturer and may be delayed for a few weeks.
Let Vipersharp Professional Precision Sharpening System help you create the edge you need and keep it sharp. Getting a precision edge on your knife is not always an easy job, especially by hand. ViperSharp is a professional sharpening system that assists you in getting that edge you desire on any knife in your collection. Designed with the shortcomings of other systems in mind, the ViperSharp Knife Sharpener takes precision sharpening to a whole new level. Why settle for an inferior product that is "ok" when you can get perfection this easy?
Knife Friendly Knife Sharpener
The ViperSharp precision sharpening system will hold the blade secure without causing any damage to your blade. It's unique clamp will hold onto your blade tight and at the perfect angle so the blade is not forced out of the clamp.
The rubber enhanced gripping tips will ensure that a coated or polished blade will not be damaged while sharpening and the guide rod allows an ultra low profile that other systems only dream of.
Stones swap out in seconds to change grits. Innovative designing allows you to swap the knife to the other side of the blade with ease and your angle remains the same as you complete sharpening the other side. The system will offer every option in hones from ceramic to diamond abrasives. You will be able to sharpen any surface you desire. If you want it sharp, you want it ViperSharp.
This COMPLETE ViperSharp Professional Knife Sharpener system offers you the combination of both the ceramic and diamond hones giving you the most flexibility when sharpening your knives. This gives you a truly Professional Knife Sharpening System that will allow you to achieve great results.
Included in Complete ViperSharp system:
Quartz stone base
Upright assembly(latest version including outer sleeve, riser, clamp receiver)
Clamp assembly (latest version)
Stone carriage (latest version)
Ceramic Stones:
80 grit 3/4" ceramic stone
220 grit 3/4" ceramic stone
400 grit 3/4" ceramic stone
600 grit 3/4" ceramic stone
1200 grit 3/4" ceramic stone
Diamond Stones:
250 grit 1" diamond stone
400 grit 1" diamond stone
600 grit 1" diamond stone
1200 grit 1" diamond stone
Leather Strop
4 Lapping film blanks
5 Lapping films (1 mic, 3 mic, 5 mic, 9 mic)
All Hardware
Plano GunGuard Case
Allen Key holder