Donate to Win
Walther P22 Pistol PLUS Aklys Defense Kopis Suppressor PLUS Powered By Silencer Shop Package
Total Retail Value:
$934.00
Donated By:
Tyler and Lane Ruhland, Aklys Defense & Silencer Shop
**** Chosen by Winner:
Kingsley R.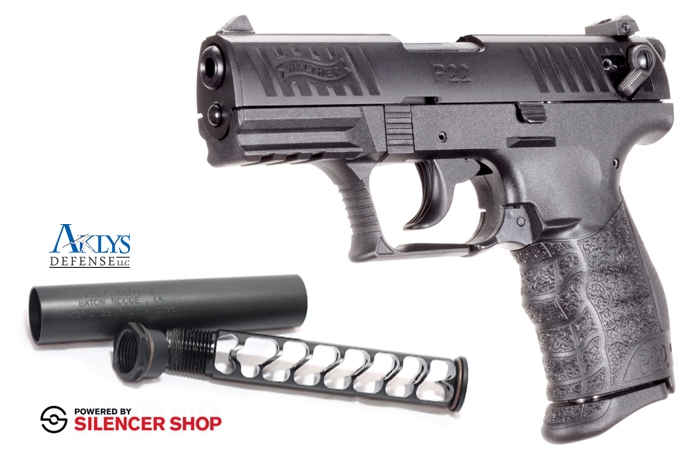 NOTE: Firearm and optional suppressor will not be shipped directly to winner, but rather to Federal Firearms Licensee ("FFL") specified by winner (or selected by Knife Rights or Hill Country Class 3 LLC d.b.a. Silencer Shop (Silencer Shop), in Knife Rights' and Silencer Shop's sole discretion). Winner can only take possession of firearm and suppressor from the FFL(s). Winner must comply with all applicable legal requirements prior to taking possession of firearm or suppressor. Winner is responsible for shipping charge ($40 Pistol/$70 Rifle Caliber) and any fees charged by receiving FFL. Click for complete rules.
Walther P22 ($300)  Rimfire Has Evolved. The .22 rimfire handgun will never look the same. The P22 changed everything. Walther adapted the tactical styling and Performance Design concepts from our centerfire handguns and applied them to the .22 L.R. This created a new movement in the design of contemporary rimfire handguns … and an explosion of imitators. As a stylish, fun gun to own, the P22 is at home on the shooting range, around the camp or in a museum of modern art.
Aklys Defense Kopis 22LR ($299) is a mono-core suppressor manufactured from 7075 T-6 aluminum, and fully Type III Hard Coat anodized to provide a lifetime of heavy duty suppressor use. The Kopis suppressor's three piece user serviceable design allows for ease of cleaning and requires NO special tools for disassembly. The Kopis has been optimized for minimal first round pop and excellent sound reduction while being extremely light weight and still maintaining its hard use durability, giving you a lifetime of suppressor enjoyment. The Kopis may be fired "wet" for ultimate sound reduction, but do not store it "wet" with any water based wetting agent. For best suppression results use subsonic loads to avoid the supersonic crack once the bullet has left the muzzle. The Kopis is rated for all .22LR, .22 Magnum, 17HMR, 17M2 ammunition and Full-Auto rated for .22LR.
Powered By Silencer Shop Package (Retail Value $335): If you choose to accept the suppressor prize, but are new to the suppressor world, DON'T WORRY! Silencer Shop is powering every step of the transaction. All required paperwork and fees will be handled for the recipient utilizing the nationwide Powered By Silencer Shop network of dealers. Silencer Shop is including the following*:

FREE NFA Gun Trust
FREE Tax Stamp Payment
FREE Transfer to the Powered By Silencer Shop Dealer of Your Choice
* Additional rules apply for suppressors. Click for complete rules.
Model  P22 Black Specifications:
SKU: 5120300
Caliber: .22 LR
Barrel Length: 3.42"
Trigger Pull: DA: 11/SA: 4 lbs
Trigger Travel: DA: 0.6
Capacity: 10 rds
Overall Length: 6.3"
Height: 4.5"
Safety: Manual + 1 Auto
Width: 1.1"
Weight Empty: 17 oz
Aklys Defense Kopis 22LR Specifications:
Dimensions: Diameter 1" , Length 5"
Weight: 2.4 Oz. (one of the lightest full auto capable suppressors on the market)
Finish: Type III Hard Coat anodized 7075
Mount: 1/2 X 28 Nitrided 4140 ordinance Steel
The Kopis is rated for .22LR, .22 Magnum, 17HMR, 17M2, and full auto rated for .22LR.