Total Retail Value:
$768.80
Donated By:
American Outdoor Brands' Wheeler
**** Chosen by Winner:
Mitch D.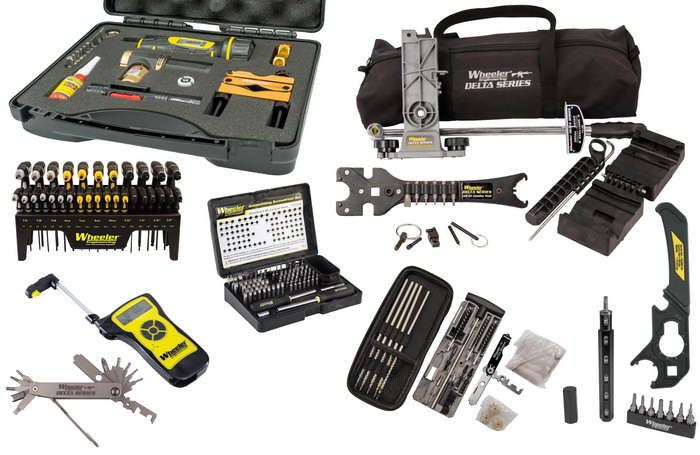 The good folks at Wheeler have put together a great Gun Care and Armorer's Package with an assortment of tools to set up and maintain your firearms.
Ultra Scope Mounting Kit ($270.99) The ULTRA Scope Mounting Kit from Wheeler® Engineering puts all the best Wheeler® scope mounting accessories into one perfect package. With this kit you can level your rifle, level your scope, mount your scope to the rifle and then coarse sight in your scope with precision and accuracy. The ULTRA Scope Mounting Kit even provides thread locker and a lens pen to keep your scope clean and your optics secure on even the largest caliber guns. Includes a lens pen to keep you scope clean and a heavy duty carry case with foam molded compartments for storage.
AR Armorers Essentials Kit ($141.99) The Wheeler® Delta Series AR Armorer's Essentials Kit contains all of the essential tools a gunsmith or armorer needs to complete a full rifle build, or make repairs or perform normal maintenance on AR-15/M16 platform rifles. Each of these Delta Series tools is designed with application specific features to perform specific functions with precision and ease. Each tool is constructed of the highest quality materials to deliver the best performance at a great value. All of the tools fit inside the durable carry case for convenient storage and transport. This 7-piece Armorer's Kit contains the best tools available and will enhance any user's ability to work on any AR. Essentials Kit includes: AR15 Combo Tool, Torque Wrench, Upper Vise Block Clamp w/ Gas Tube Alignment Tool, Pivot Pin and Roll Pin Installation Tool, Mag Well Vise Block, AR -15 Adjustable Receiver Link, and a custom fitted carrying case.
89 Piece Professional Gunsmithing Screwdriver Set ($81.99) Screwdrivers are the most important and most used gunsmithing tools. Wheeler's Deluxe Gunsmithing Screwdriver Sets belong on every gunsmithing bench. The well thought-out bit selection will put an end to burred, buggered and busted up screw slots on any gun. Unlike other screwdriver suppliers, Wheeler's engineers measured the screws on over one hundred modern and antique firearms to make sure that we offered bits for every situation. Whether you are working on a Browning® Superposed, a Remington® 700, a Smith & Wesson® revolver or a Colt® single action, you will find that there is a bit to fit every screw on your gun. The 89 piece set includes 15 ingenious "specialty bits". These bits are great for installing scope bases, getting you out of a pinch by providing a small pin punch when you really need it and keeping once-in-a-while lifesaver tools at your fingertips.
Professional Digital Trigger Gauge ($64.99) Wheeler's Professional Digital Trigger Gauge features an over-molded design and soft touch buttons for comfort and a consistent line of pull. Includes bladed trigger adapter to allow use with triggers that have internal safety blades such as: Glock®, Ruger®, Savage®. Also includes a foam lined storage
Wheeler 30 Piece SAE/Metric Hex and Torx P-Handle Set ($59.99) Complete your workbench with the Wheeler 30-Piece P-Handle Driver Set. The sleek molded stand design paired with its ability to be mounted on the wall allow for quick, convenient access to the SAE Hex, Metric Hex and Torx drivers, making it the perfect addition to any work shop.
Professional Armorers Wrench ($43.99) Wheeler's Delta Series Professional Armorer's Wrench is designed to be the last wrench you'll need for building your perfect rifle. This tool is what every gunsmith or armorer needs to be able to build or repair their AR-15. It's constructed from the highest quality materials delivering you the best performance for all your gunsmithing needs at a great value, and includes 6 different essential AR tools. The handle has torque measurements included on the handle for accuracy with every build.
Wheeler Compact Tactical Rifle Cleaning Kit ($43.99) Hold the power to clean your rifle in the palm of your hand with the Wheeler Delta Series Compact Rifle Cleaning Kit. This kit comes in a semi-rigid, zippered carry case and can be used on .22 and .30 caliber rifles. Whether you travel a lot, clean at the range, or like to be organized at home, this kit is the perfect size for storing in small spaces, including a magazine pouch, and durable enough to take anywhere.
Wheeler Delta Series Compact Multi-Tool ($32.99) There is no longer a need for a tool box at the range when you have the Wheeler Delta Series Compact Multi-Tool. With a satin finish and stainless steel construction, this tool is not only handy, but durable. The multi-tool design can be used to perform many different functions in the field. When you need to make adjustments, or scrape some carbon build-up, simply reach down and grab this tool out of the included nylon belt sheath and go to work. After you are finished, snap the tool back in and continue shooting.
Wheeler Multi-Driver Tool Pen with Aluminum Handle ($27.99) Have the bits you need, on hand, with the Wheeler Multi-Driver Tool Pen. This small tool is perfect for travel. Who wants to drag their entire screwdriver set to the range? This do it all tool makes it so you don't have to. Its convenient shape fits comfortably in your hand and is equipped to hold 6 of your most used bits. The aluminum constructed handle keeps the bits internally and can be changed quickly, by simply pulling the bit out of the exposed end and pushing it through the top of the handle. This tool also comes with a bits holder to conveniently store up to 7 unused bits.