Total Retail Value:
$829.94
Donated By:
American Outdoor Brands' Wheeler Tools
**** Chosen by Winner:
Bradley E.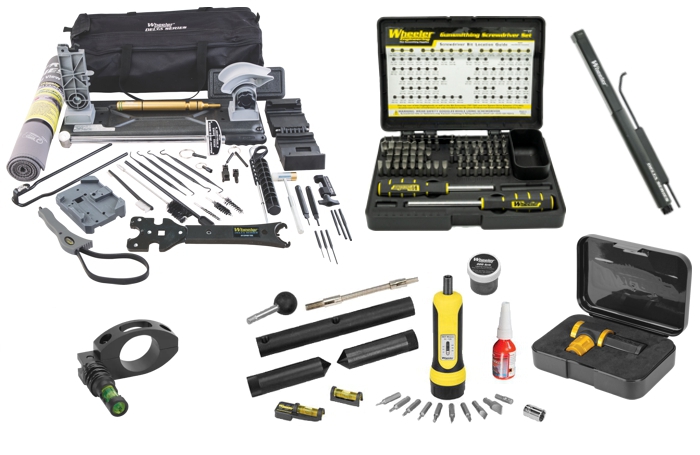 AR Armorer's Ultra Kit ($384.99) includes: AR-15 AR Armorer's Vise, AR-15 Combo Tool, Torque Wrench, AR-15 Armorer's Bench Block, AR-15 Roll Pin Installation Tool Kit, Upper Vise Block Clamp with Gas Tube Alignment Tool, Maintenance Mat with Exploded AR-15 Diagram, Pivot Pin & Roll Pin Installation Tool, AR Front Sight Tool, Delta Ring Tool, Strap Wrench, AR-15 Bore Guide, AR-15 Adjustable Receiver Link, .22 Cal Bore Brush, Bolt Carrier Brush, Chamber Brush, Magazine/Upper Receiver Brush, Nylon Brush Handle, Double-ended General Cleaning Brush, Cleaning Pick Set, and Custom Fitted Carrying Case.
Professional Laser Bore Sighter, Red ($134.99) The Wheeler Engineering® Professional Laser Bore Sighter uses a high power daylight visible green laser and a high-strength magnetic connection to the barrel to deliver fast accurate bore sighting. This system works with virtually all firearms; rifles, shotguns, handguns. The magnetic connection to the end of the muzzle provides more precise alignment with the bore without the risk of damaging the bore, compared to arbor style bore devices. A machined aluminum body with soft rubber over-molding houses the laser module. Each unit is hand tuned during the manufacturing process with an innovative calibration mechanism. This allows for maximum precision, thus ensuring the best bore/optic alignment possible. Once precision calibration is completed the laser module is permanently secured in place insuring reliable performance and durability. Molded plastic storage case included. Runs on a single Lithium 123A battery (included).
Professional Scope Mounting Kit and Scope Alignment Kit ($119.99) The Wheeler® Professional Scope Mounting Kit and Scope Alignment Kit will properly align, attach and level your scope on your gun. Alignment and lapping bars make ring alignment simple and easy. The Level-Level-Level provides precise linear leveling for your scope and the F.A.T. Wrench® guarantees exact torque specs on your scope rings. A flex driver is included for use with a power drill.

72 Piece Professional Gunsmithing Screwdriver Set ($74.99) The Wheeler 72 Piece screwdriver set features 54 hollow-ground flat bits, 4 Phillips, 3 Torx, and 8 specialty bits all made from durable S2 tool steel with a 56-58 Rockwell "C" hardness rating. The precision-engineered bits have a concave shape that allows for insertion all the way into the screw slot of maximum contact to prevent burred, buggered, busted up screw slots. The kit also includes 2 non-slip, overmolded plastic handles that come in a convenient hinged storage case which includes a bit location guide.
Whether you're working on a Browning® Superposed, a Remington® 700, a Smith & Wesson® revolver, or a Colt® Single Action, you'll find that there's a bit to fit every screw on your gun. The 54 Hollow-ground flat bits range in size from .120″x.020″ to .360″x.070″, and includes doubles in the thinnest sizes. Any gunsmith will tell you that you're occasionally going to break the ultra-thin bits on stubborn screws. This set includes two each of the very thinnest bits, which means you'll never be stuck in the middle of a job without the proper bit. The set also includes a complete selection of Phillips, Allen, and Torx bits to cover scope rings, bases, recoil pads, and the like.
Upper Receiver Action Rod AR-15 ($69.99) The new Upper Receiver AR-15 Action Rod is a must have tool when building any kind of AR-15. The tool eliminates stress on the upper receiver when installing a barrel and works on all AR-15 barrels with standard barrel extensions. The rod also works on both forged and milled upper receivers, and the design enables you to work on the upper with no need to remove your sights or optics. A simple twist and lock design makes it easy to hold the tool in place when working, and a gas port index rod is included in the design.
Anti-Cant Indicator 1" ($46.99) Using a scope alignment tool to keep your scope perfectly aligned is critical to long-range accuracy.  Canting your scope, even just a couple of degrees, can cause error in point of impact.  With modern "Drop-Compensating" scopes, an Anti-Cant Indicator is a necessity.  If your gun isn't aligned correctly dialing up the turrets, or using hold-over marks, will just throw your shot off.  This error can easily be enough to cause misses.   The Wheeler® Anti-Cant Indicator ensures that your rifle is always held near perfectly vertical, eliminating any chance for "Cant Error" to cause a miss.