Donate to Win
Wicked Edge Precision Sharpener - WE120 - Aluminum Base
Retail Value:
$474.00
Donated By:
Wicked Edge
**** Chosen by Winner:
David R.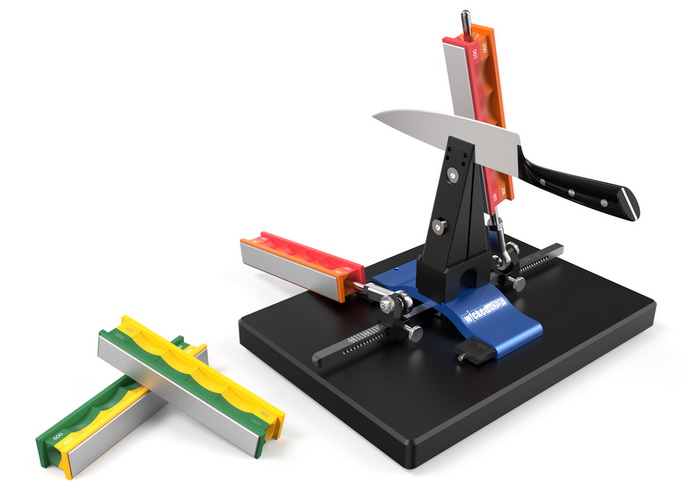 Designed to accommodate anyone who has a wide assortment of knife styles, the WE120 Precision Sharpener is one of our more versatile sharpeners. This sharpener offers a wide angle range of 13-35 degrees per side, the ability to sharpen asymmetrical grinds, micro-angle adjustments in less than 1 degree increments and the ability to clamp blades that are up to 3/8" thick. Providing greater angle control and a wider range of angle options than the WE50 and WE100 models, it can clamp a large assortment of knife grinds and blade thicknesses. The WE120 Precision Sharpener can be mounted to a home workstation or mounted to any of the bases we offer.
This WE120 comes with an Aluminum Base
Sharpens a wide assortment of knives

Wide angle range for added versatility

Fine angle adjustment and control

Ability to adjust angles independently for asymmetrical grinds

Includes Coarse 100 Grit / Medium Coarse 200 Grit Diamond Stones Pack

Includes Medium Fine 400 Grit / Fine 600 Grit Diamond Stones Pack

Vise is operated with an included Allen Key

Parts are fully modular, making them interchangeable with upgrades for more advanced sharpening capabilities

Can sharpen blades up to 15" long

Can clamp blades up to ⅜" thick with included vise screws (longer screws may be used to enable clamping of even thicker blades)

Angle Range: 13-35 degrees per side (26-70 degrees inclusive)

Main angle adjustment in 1 degree increments, and micro-angle adjustment in 0.05 degree increments

Guide Rods: 8"