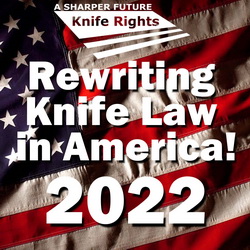 2022 has been a very good year for Knife Rights and our supporters. If you consider your support for Knife Rights as an investment, we are giving you an excellent return on that investment. More on that below. If you are looking to make a tax-deductible donation before year's end, our 501(c)(3) Knife Rights Foundation could sure use your support as we look forward to another busy year ahead (Click here and select Knife Rights Foundation).
We started the year with the repeal of Virginia's total switchblade ban with just three nay votes, concluding a five-year, two-veto effort.
Alabama's Constitutional Carry bill we supported repealed their ban on carrying a Bowie knife and their ban on concealed knife carry. It will be effective January 1, 2023. We work hard to encourage legislators to include "knives," not just handguns or guns, in Constitutional Carry bills. It is our constitutional right as well.
Starting in 2012, three Knife Rights bills repealed most of Georgia's knife bans, providing protection to BLADE Show attendees and exhibitors along the way. Georgia's enactment of Knife Rights-supported Constitutional Carry finally repealed the state's last remaining knife prohibition, the carry of knives over 12 inches without a CCW. Knife Rights had previously changed that ban from 5 inches to 12 inches.
The Supreme Court's Bruen Second Amendment decision was a huge win for knife owners. Knife Rights Foundation signed on to an Amicus Curiae (Friend of the Court) brief with FPC American Victory Fund and a number of state Second Amendment advocacy groups supporting the plaintiff. Points made in our brief were noted in the opinion.
New Hampshire, where we helped pass the nation's first ever repeal of a ban on switchblades, dirks, daggers and stilettos in 2010, enacted a Knife Rights-supported bill prohibiting enforcement of federal knife laws, rules, or executive orders.
After repealing Ohio's often abused vague knife laws and the ban on manufacture and sale of switchblades last year, this year our Ohio Knife Law Preemption bill was signed into law repealing dozens of local knife restrictions and preventing any future local restrictions. This concluded six years of Knife Rights efforts in Ohio.
Louisiana's ban on concealed carry of switchblades was finally repealed after our previous bill eliminated the total ban on switchblades, except concealed carry, and a Knife Rights-supported bill last year swept away all the other knife bans in the state.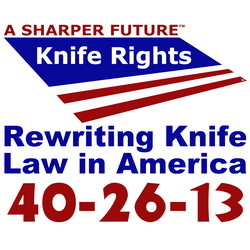 After nine years of effort and with just a single nay vote, Pennsylvania's near total switchblade ban was repealed. It will become effective on January 2, 2023. This represented a watershed event for us, the 40th bill repealing a knife ban signed into law in 26 states since we started our state legislative efforts in 2010, 13 years ago.
Finally, as 2022 closes out, in New Jersey we worked closely with our NJ friends to amend out language in a largely unconstitutional bill (which will be signed into law before year's end) that would have made it a felony-level offense to carry a knife in large swaths of the state.
None of this would have been possible without your generous support. We sincerely thank you for helping us Forge a Sharper Future for all Americans!
With the year end approaching, this is a great opportunity to help us continue our efforts to Rewrite Knife Law in America next year by making a tax-deduction donation to the 501(c)(3) Knife Rights Foundation before midnight, December 31st. The Foundation is engaged in our litigation efforts to protect or expand your right to possess or carry knives and also produces our FREE LegalBlade App – Knife Laws in America.