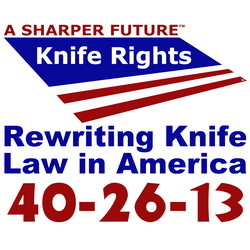 With last week's repeal of Pennsylvania's switchblade ban (effective January 2, 2023) we now count 40 bills repealing knife bans signed into law in 26 states since 2010! WOW!
When I started Knife Rights in 2006, most folks I spoke with told me I was crazy and there wasn't a snowball's chance in hell that I'd ever repeal a knife ban. A few were supportive, even if they had doubts about my sanity. I have enjoyed proving those naysayers wrong. Just three of us, and all of you, forging a Sharper Future for all Americans.
This improbable milestone would not be possible without the support of so many people over the years. Whether you gave $5 or thousands, donated a knife or hundreds of knives, helped volunteer, or whatever you've done to help us succeed, each one of you were critical to accomplishing this success.
I'd like to especially recognize my wife, Sue, for all she has done and continues to do. She too thought I was nuts, but she has supported me through thick and thin. Credit also to my lobbyist, Todd Rathner, without whom this list of accomplishments might have never been. Check out the map and list of our accomplishments at: https://kniferights.org/about/accomplishments/
It's rarely been easy, but with perseverance we succeeded beyond any of our expectations. We learned early on that there were a few secrets to getting this done; showing up at the state houses, coming back year after year, and working with both sides of the aisle to achieve bipartisan support. Some states took a decade of coming back, like Pennsylvania and New York. Our bills have been signed by both Republican and Democrat governors. Despite the naysayers, we have proved time and again that it is possible, if you don't give up.
It's not cheap to do this, raising money is always a challenge and the part of this that I hate, if I am honest, but it's so worth it. We are making a difference not just for knife owners and makers and manufacturers and retailers today, but for our kids, grandkids and many generations to come.
With your continued support we will continue to rewrite knife law in America, forging a Sharper Future for all Americans. Thank you so much!
— Doug Ritter