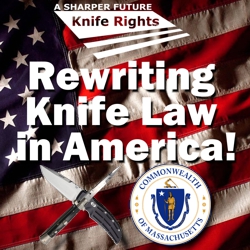 Knife Rights has filed an Amicus (Friend of the Court) Brief with the Massachusetts Supreme Judicial Court in a criminal case involving illegal carry of a switchblade. In Commonwealth v. Canjura the Appellant has challenged the constitutionality under the Second Amendment of Massachusetts' ban on carry of a switchblade. A decision in favor of the Appellant could strike down the Commonwealth's ban on carry of switchblades.
Click to read the Amicus Brief.
When the MSJC accepted the case, the court specifically requested amicus briefs related to the Second Amendment issue at hand. Our Amicus Brief aims to provide added clarity for the court on the subject of Second Amendment claims with regards knives as arms, and in particular switchblades, after the Bruen decision.
The MSJC was schooled on the Second Amendment previously by the Supreme Court of the United States in a case that has had a huge impact as a result of Bruen. In Caetano v. Massachusetts, SCOTUS unanimously vacated the conviction of a woman who carried a stun gun for self-defense and remanded the case back to the state court based on the Second Amendment. Justice Alito wrote an opinion concurring in the judgment that effectively set the bar of "at least 200,000" units possessed nationally for lawful purposes including self-defense. That standard is relied on by virtually every 2A case filed since Bruen, including all of our cases.
In the remanded Caetano case the prosecution and defense reached an agreement and Caetano was found not guilty by the lower court. Two years later, in 2018, in Ramirez v. Commonwealth, the MSJC relied on Caetano to strike down Massachusetts' stun gun ban. So, at least narrowly, they have recognized Second Amendment rights in a case that's very similar to this one.
Knife Rights is represented by Second Amendment attorney Daniel L. Schmutter. Generously serving as Knife Rights' local counsel is Jason Guida, a Massachusetts Second Amendment rights attorney.
Knife Rights Chairman Doug Ritter said, "Massachusetts' switchblade ban is clearly unconstitutional. We have done all we can to ensure the Massachusetts Supreme Judicial Court Justices have been fully briefed on the Second Amendment after Bruen. Now it is up to them to faithfully apply the law."
Oral argument is set for December 4th.
Please support Knife Rights' litigation efforts with a tax-deductible donation to the Knife Rights Foundation at: www.KnifeRights.org/donate (select Knife Rights Foundation)
NYSRPA v. Bruen Background
Broadly, in NYSRPA v. Bruen the Supreme Court held that the Second Amendment includes the right to be armed for self-defense at home and in public. This right can only be limited to the extent that there is a historical tradition of limitation in the period immediately prior to and around the time of the Constitution's framing in the late 18th century up to the late 19th century. A few restrictions on knives of various sorts that are outliers from that time period do not count. Restrictions imposed later, including on switchblades in the 1950s, including the Federal Switchblade Act, don't count. Acquisition, possession and carry of knives survives this constitutional test.
NYSRPA v. Bruen upheld restrictions on weapons such as machine guns that are deemed by the court to be both "dangerous and unusual." A weapon that is either not "dangerous" or not "unusual" cannot be prohibited. Automatically opening ("switchblade") knives and other knife designs and opening mechanisms are neither "unusual," being legal and common in most places today, nor any more "dangerous" than other non-prohibited knives or weapons. Knife bans existent today do not pass constitutional muster after Bruen.
NYSRPA v. Bruen also emphasized emphatically from the court's prior Second Amendment McDonald decision that "the constitutional right to bear arms in public for self-defense is not a second-class right, subject to an entirely different body of rules than the other Bill of Rights guarantees." Second Amendment decisions by courts must be made on the basis of strict scrutiny, just as with other rights. Intermediate scrutiny or "interest balancing" can no longer be used to decide Second Amendment cases. As such, the government can no longer defend knife bans, for whatever irrational basis it comes up with.
Knife Rights Foundation serves knife owners and the public with a focus on protecting the rights of knife owners to keep and carry knives and edged tools for all lawful purposes including self-defense. The purposes of the Knife Rights Foundation include the promotion of education regarding local, state and federal knife laws, and the defense and protection of the civil rights of knife owners nationwide. It's latest court victory stopped Philadelphia's enforcement of the City's ban on carry of any knife in public.
Knife Rights is America's grassroots knife owners' organization; leading the fight to Rewrite Knife Law in America™ and forging a Sharper Future for all Americans™. Knife Rights efforts have resulted in 44 bills enacted repealing knife bans in 28 states and over 175 cities and towns since 2010.