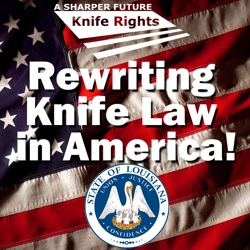 A Louisiana bill, HB 124, has been prefiled that would allow carry of any "instrumentality customarily used or intended for use as a dangerous weapon" as long as the carrier has a concealed handgun permit. This would include all knives.
In 2018 Knife Rights was able repeal Louisiana's complete ban on switchblades, but in order to get it passed we had to compromise by including the restriction that the knife not be "intentionally concealed on one's person." HB 124 would remove that restriction for those with a concealed handgun permit as it would for any other knife.
While requiring a CCW to carry a knife concealed is not optimal, we support this effort as an incremental improvement in Louisiana law. Our ultimate commonsense goal is always to remove any restrictions to carry of a knife, period. We appreciate the efforts of our good friends at the Louisiana Shooting Association in support of HB 124, helping move things in the right direction.
Knife Rights is America's grassroots knife owners' organization; leading the fight to Rewrite Knife Law in America™ and forging a Sharper Future for all Americans™. Knife Rights efforts have resulted in 33 bills enacted repealing knife bans in 23 states and over 100 cities and towns since 2010.