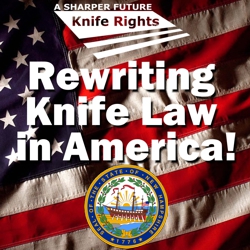 New Hampshire Governor Chris Sununu on Friday signed Knife Rights supported HB 1178, a bill that prohibits the state from enforcing any federal statute, regulation, or Presidential Executive Order that restricts or regulates the right of the people to keep and bear arms, including, specifically, knives. This is the first such law to be enacted that specifically includes knives. The new law is effective immediately.
In a week where the Supreme Court issued an historic opinion on the Second Amendment that affirms constitutional protections for the right to bear arms, including knives, and then the signing by President Biden of constitutionally questionable new laws impacting Second Amendment rights, this new law in New Hampshire provides protection from federal overreach on the right to bear arms.
As this is uncharted ground in some respects, we'll have to wait and see how this new law works in action and whether it withstands almost certain litigation.
The inclusion by New Hampshire for the first time of knives, by reference, in this state preemption against federal law is entirely appropriate. Back in 2010, in one of our very first efforts, New Hampshire repealed its ban on switchblades, dirks, daggers and stilettos, removing all restrictions on knives in the state. This was the first repeal of a switchblade ban and first repeal of all of a state's knife restrictions in the nation's history. That helped us kickstart the movement to #FreeTheKnives.
Knife Rights is America's grassroots knife owners' organization; leading the fight to Rewrite Knife Law in America™ and forging a Sharper Future for all Americans™. Knife Rights efforts have resulted in 39 bills repealing knife bans in 25 states and over 150 cities and towns since 2010.