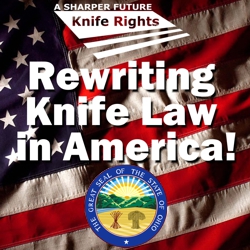 At the SB 140 Enactment Celebration held at Rick Hinderer Knives on Tuesday, Ohio Senator Kristina Roegner, that bill's sponsor, announced the filing of her Senate Knife Law Preemption bill, SB 156. This is a companion bill to HB 243, filed in the House by Representative Al Cutrona.
These bills follow on SB 140 because, unfortunately, without knife law preemption, numerous cities and towns in Ohio are still able to ban many knives that are perfectly legal under Ohio's statutes.
Sen. Roegner said, "after the passage of SB 140 it is critical that we ensure that Ohioans can expect consistent knife laws across Ohio. That is why I filed SB 156."
Knife Rights Founder and Chairman Doug Ritter said, "we are grateful to Senator Roegner for continuing this fight for criminal justice reform in Ohio. No Ohioan should have to worry about being arrested for carrying a tool just because they crossed a city or county line."
Knife Law Preemption is a Knife Rights criminal justice reform effort that nullifies existing ordinances and prevents new local ordinances more restrictive than state law which only serve to confuse or entrap law-abiding citizens traveling within or through the state. Preemption ensures citizens can expect consistent enforcement of state knife laws everywhere within a state.
Knife Rights authored and passed the nation's first Knife Law Preemption bill in Arizona in 2010 and has since passed preemption bills in Alaska, Georgia, Kansas, New Hampshire, Oklahoma, Tennessee, Texas, Utah, West Virginia and Wisconsin.
Knife Rights will let you know when it is time to contact your legislators to support HB 243 and SB 156.
Knife Rights is America's grassroots knife owners' organization; leading the fight to Rewrite Knife Law in America™ and forging a Sharper Future for all Americans™. Knife Rights efforts have resulted in 33 bills enacted repealing knife bans in 23 states and over 100 cities and towns since 2010.