Donate to Win
Personally Autographed Copy of "Crime Proof" by Gun for Hire's Anthony Colandro PLUS Hogue Knives Model EX-F01 7" Fixed Blade autographed by Anthony Colandro PLUS another Hogue Knives EX-F01 7" to use! One for SHOW, One for GO!
Total Retail Value:
$518.76
Autograph PRICELESS!
Donated By:
Hogue Knives & Anthony Colandro
**** Chosen by Winner:
Bruce V.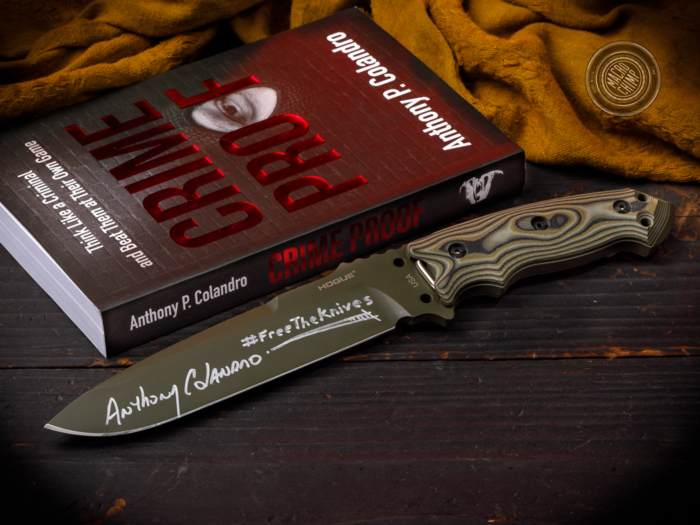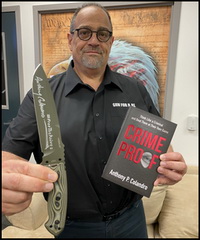 Anthony Colandro: Host of hit radio show "Gun For Hire Radio" – over one million listeners nationwide. Member, NRA Board of Directors and Association of New Jersey Rifle and Pistol Clubs Board of Directors. NRA Master Training Counselor (one of only 60 in U.S.). Aggressive, outspoken defender of Second Amendment rights for over 30 years in battleground state of NJ, making numerous TV and radio appearances. Strong advocate for Right to Carry. NRA Election Volunteer Coordinator. Supports NRA competitive activities, Women on Target, Eddie Eagle, NRA Civil Rights Defense Fund. 25+ year NRA Certified Instructor. NRA Law Enforcement Instructor. NRA Ring of Freedom and Heritage Society Member. Whittington Center Trailblazer #353. Founder of Gun For Hire, NJ's leading firearms training facility and indoor range. Author of Crime Proof: Think Like a Criminal and Beat Them at Their own Game.

Anthony will personally autograph a copy of "Crime Proof" for the winner.
---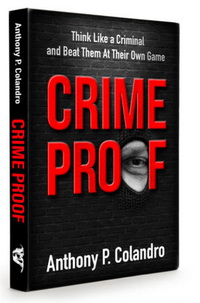 Crime Proof: Think Like a Criminal and Beat Them at Their own Game ($18.76): is a book for anyone that is serious about personal safety and responsibility. This is not your dad's book on guns and awareness, but a fresh perspective on dealing with the dangers of the 21st century. Master Firearms Instructor Anthony Colandro covers important topics such as hardening yourself and your family from the criminal element, to what happens when a violent encounter occurs. Crime Proof helps instill the mindset you need to survive!
Other important subjects covered include: Safety outside the home, travel safety, sending your kids off to college, defensive mindset, non-lethal weapons, natural disasters, mass-casualty events, firearm selection and use, and very important information on what to do when you're dealing with the police. The book is also loaded with very important information on our digital world and delivers valuable information to keep you, your identity, and your children safe while navigating the great digital unknown.
Crime Proof is a complete cannon on giving yourself an edge and allows you to be armed with what you need in order to navigate a world of wolves as a sheep dog!
Anthony will personally autograph a copy of "Crime Proof" for the winner.
---
The Hogue Knives Model EX-F01 7" Fixed Blade ($249.95) is the ultimate field tool packed with features. With its thick tool steel blade and integrated skull crusher the EX-F01 is ready for all tasks. Additionally, the broad point in front of the false edge provides extra strength to the tip and a large land for batoning. The weight of the EX-F01 provides ease of chopping and improved penetration. The 3D sculpted scales provide the user a comfortable grip while performing strenuous cutting activities. To complement the grip, the blade includes a serrated thumb-ramp and finger detent in the frame. The EX-F01 has an integrated hidden compartment in the frame which is accessed by using the supplied wrench. The EX-F01 includes a ballistic nylon sheath with a MOLLE compatible back.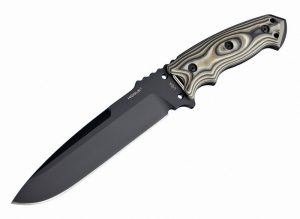 Specifications
Blade Style: Drop Point
Blade Length: 7"
Blade Finish: Cerakote
Overall Length: 12"
Blade Thickness: 0.25"
Blade Material: A2 Tool Steel
Blade Hardness: 57-59 HRc
Handle: G10 G-Mascus®
Weight: 12 oz