Donate to Win
D Rocket Design Darriel Caston G10 Tallin - Single Action Automatic
Retail Value:
$199.00
Donated By:
D Rocket Designs
**** Chosen by Winner:
Mike D.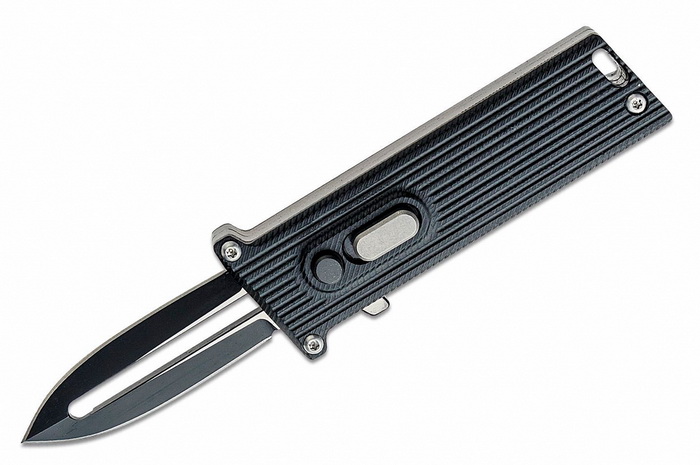 NOTE: Restrictions on delivery of automatic knives in accordance with federal and state laws apply. Click for complete rules.

Tactically inspired and daily carry ready, the D Rocket Design Tallin is a single action out-the-front automatic with a California legal size and simple, rugged construction. Fun and functional, the Tallin is another quintessential D Rocket design. This blackout version comes with a two-tone M390 blade, stainless steel liners and black G10 handle scales.
Blade: Made from premium, Bohler M390 stainless steel the dagger blade is a California legal sub-2 inches in length and stout enough for strength in piercing and general utility use. The two-tone black PVD finish is classy and discreet. Deployment is decisive and smooth at a touch of the button. Pull the tang lever down to close the blade, making it ready again.
Handle: Simple and sleek, the steel handle houses the blade, mechanism, and button lock in a lightweight, compact package with high traction G10 scales for a secure grip. The dual guard delivers plenty of safety in use and fits the dagger design. The lock is rock solid, backed by the slide safety that prevents unintentional deployment in carry and lock disengagement in use. 
Carries via a milled stainless steel pocket clip.
Specifications
Blade Length: 1.98"
Cutting Edge: 1.95"
Closed Length: 3.00"
Overall Length: 4.98"
Blade Material: M390 Stainless Steel
Blade Thickness: 0.125"
Blade Style: Double Edge Dagger
Blade Grind: Hollow
Blade Finish: Black
Handle Material: Black G10
Handle Thickness: 0.440"
Liner Material: Stainless Steel
Locking Mechanism: Button
Pocket Clip: Titanium (Tip-Down, Right/Left Carry)
Weight: 2.05 oz.
Designer: Darriel Caston
Made in the USA