Donate to Win
Diamondback Firearms DB10DBG in .308 Win PLUS Donated by Silencer Shop SilencerCo Harvester Evo Suppressor PLUS Powered By Silencer Shop Package PLUS Crimson Trace Hardline 1-10x28 34mm MOA PLUS Wheeler 1 Piece Cantilever Scope Mount PLUS Southern Grind Jackal Fixed Blade 
Total Retail Value:
$3,254.93
Donated By:
Diamondback Firearms, Silencer Shop, Crimson Trace, Wheeler and Southern Grind
**** Chosen by Winner:
Warren H.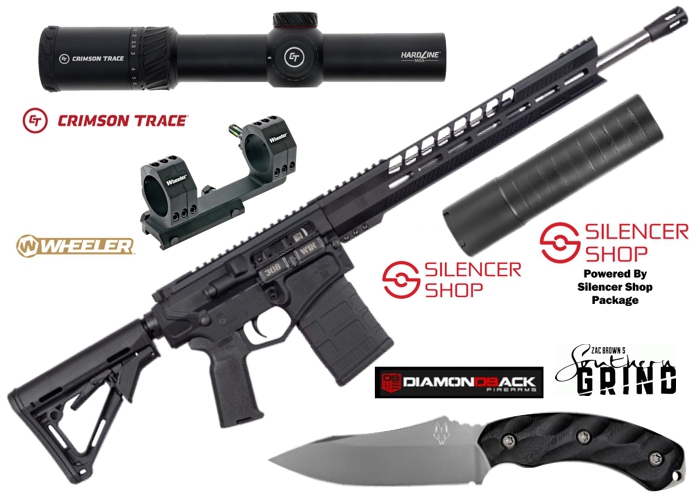 NOTE: Firearm and optional suppressor will not be shipped directly to winner, but rather to Federal Firearms Licensee ("FFL") specified by winner (or selected by Knife Rights or Hill Country Class 3 LLC d.b.a. Silencer Shop (Silencer Shop), in Knife Rights' and Silencer Shop's sole discretion). Winner can only take possession of firearm and suppressor from the FFL(s). Winner must comply with all applicable legal requirements prior to taking possession of firearm or suppressor. Winner is responsible for shipping charge ($40 Pistol/$70 Rifle Caliber) and any fees charged by receiving FFL. Click for complete rules.
Diamondback Firearms DB10DBG in .308 Win ($1,406)

Caliber: 308 Winchester
Barrel: Diamondback Barrels 308 Winchester, Rifle-Length* 18 in., Medium, 416R Stainless Steel, Black Nitride, Fluted
Twist: 1:10 RH
Gas System: Rifle-Length*
BCG: Shot-Peened, Magnetic Particle Inspected Mil-Spec 8620 Carrier, Lasered Logo
Upper: A3 Flattop Forged 7075 T-6 Aluminum
Lower: Forged 7075 T-6 Aluminum [Diamondback Black Gold Lower] w/ Enhanced Trigger Guard
Handguard: Diamondback 15 in. M-LOK (V-Rail) w/ Anti-Slip Texture Pads
Grip: MOE K2 Grip
Stock/Brace: Magpul CTR Stock
Magazine: Gen M3 PMAG 20 Rd
Sights: None
Muzzle Device: Diamondback CNC DBSB-IV Flash Hider [5/8 x 24]
Trigger: Standard
Weight: 8.73 lb.
Length (Collapsed): 36 in.
Length (Extended): 39-1/4 in.
Donated by Silencer Shop the SilencerCo Harvester Evo ($699) is a precision and hunting rifle suppressor that is semi-auto rated. It's compatible with the most commonly used centerfire rifle calibers including .223 REM, .300 BLK, .245 WIN, .260 REM, .308 WIN, 6.5 Creedmoor, up to and including .300 WM. The Harvester Evo provides the everyday shooter and hunter with world class sound reduction from a robustly build, short and lightweight suppressor.
This suppressor is rated down to 16" barrels for .223 Remington/5.56mm NATO and .308 WIN/7.62mm NATO, and 20" barrels for .300 WM. The Harvester Evo is compatible with all SilencerCo Bravo Mounting accessories, including the Bravo ASR Mount, Bravo Direct Thread Mounts and all ASR Muzzle Brakes and Flash Hiders. It ships with 1/2 x 28 and 5/8 x 24 Bravo Direct Thread Mounts.
Technical Specifications:
Caliber Compatibility: .223 REM/5.56 NATO to .300 WIN
Accessories: Bravo Mounts & ASR
Weight 10.8 oz
Length 6.24″
​Diameter 1.57″
​Materials Cobalt 6, Inconel, Titanium, & 17-4 SS
​Muzzle Average: 5.56 NATO: 129.6 dB, 300 BLK: 128.1 dB, 308 WIN: 133.1 dB, 300 WM: 136.8 dB
​Ships With Bravo Direct Thread Mount 1/2 x 28 and 5/8 x 24
Powered By Silencer Shop Package (Retail Value $335): If you choose to accept the suppressor prize, but are new to the suppressor world, DON'T WORRY! Silencer Shop is powering every step of the transaction. All required paperwork and fees will be handled for the recipient utilizing the nationwide Powered By Silencer Shop network of dealers. Silencer Shop is including the following*:
FREE Single Shot Trust
FREE Tax Stamp Payment
FREE Transfer to the Powered By Silencer Shop Dealer of Your Choice
* Additional rules apply for suppressors. Click for complete rules.
Crimson Trace Hardline 1-10x28 34mm MOA ($479.99)  The Crimson Trace Hardline Low Power Variable Optics are deliberately built for everyone from tactical professionals to backyard plinkers. The Crimson Trace Low Power Variable Optic line of scopes is right for you. The line features multiple optics with several magnification and measurement options. All reticles are calibrated to be precise yet robust enough for the use of multiple calibers amongst multiple different platforms. All LPVO's feature a 34mm tube crafted from aerospace grade anodized aluminum that are extremely lightweight and durable. Scopes are shockproof according to MIL-STD-810G test protocol and are waterproof according to IPX7 protocol allowing optics to be submerged in 1 meter of water for 30 minutes. All scopes are fully multi-coated and have exceptional light transmission and glass quality. Nitrogen purging prevents scopes from fogging in all environments. Glass etched reticles and quality glass allows for excellent field of view.
Magnification 1-10x
Focal Plane 2nd
Tube Diameter 34mm
Eye Relief (in) 3.5"
Construction Aerospace Aluminum
Water Resistance IPX7
Product Weight (oz) 18oz
Reticle Illuminated CT TR1-MOA Reticle
Objective Lens Diameter 28
Exit Pupil (mm) 8~2.4
FOV feet @100yd 12~118.5
Click Value 1/2 MOA
E/W Adjustment Range 110 MOA
Paralax Setting Yards 100.00
Lens Coating Fully Multicoated with CT MOC
Illuminate Reticle Yes
Light Transmittance (%) 88
Length (in) 10.85
Southern Grind Jackal Fixed Blade w/ Gunmetal Blade ($249.95) The Jackal is an EDC fixed blade featuring a sleek, full tang design. This model is equipped with black G-10 handle scales that have been 3D milled for a fitted, ergonomic grip. The drop point blade is made from 8670M high carbon steel and has a gun metal gray PVD coating. A kydex sheath is included with the knife that can be adjusted for vertical or horizontal belt carry. The Jackal fixed blade offers an EDC design that is comfortable to use and to carry. Made in USA
Overall Length: 9.25"
Blade Length: 4.75"
Blade Thickness: 0.21"
Blade Material: 8670M Carbon Steel
Blade Style: Drop Point
Blade Grind: Flat
Handle Material: Black G-10
Weight: 9.50 oz.
Sheath: FDE Kydex
Wheeler 1 Piece Cantilever Scope Mount ($84.99) Designed specifically for use with the AR-15 platform, this 1-Piece scope mount allows the optic to be mounted farther forward on the receiver to provide correct eye relief. The 6-screw design provides increased clamping force to keep the optic in place during recoil and the integrated articulating anti-cant mechanism helps keep the rifle level for your long distance shots. Centerline height from top of rail: 1.400 in.