Donate to Win
Ek Knives Ek Commando Presentation Knife PLUS Model 5 2-Knife Set
Total Retail Value:
$432.76
Donated By:
KA-BAR
**** Chosen by Winner:
Gus M.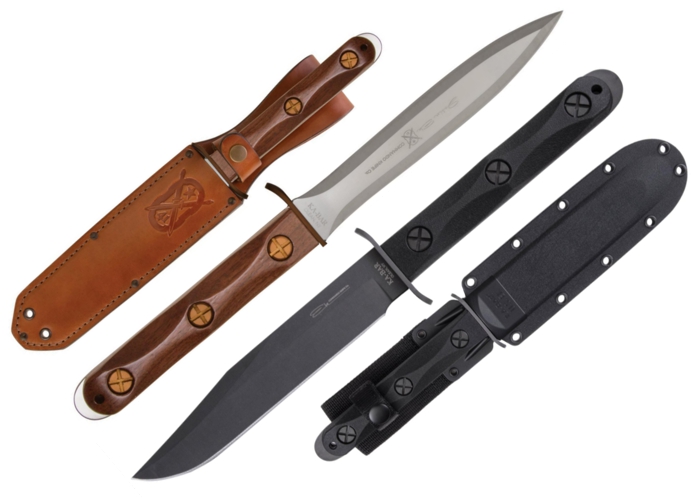 The Ek Commando Presentation Knife ($292.73) is decked out and ready to be put on display. A mirror polished stainless steel blade and lacquered walnut* handle scales make this knife a real head turner. But don't be fooled - this pretty lady is ready to dive into work as well! Sold with an American made leather sheath. *Walnut is a natural material and there will be variation in grain and color of the handle scales used to make the EK13 Presentation Knives. Made in the USA.
Specifications
Blade Length: 6.625"
Blade Thickness: 0.154"
Handle Length: 6.0"
Overall Length: 12.625"
Blade Material: 440C Stainless Steel
Blade Hardness: 55-58HRC
Blade Style: Double-Edged Spear Point
Blade Grind: Flat
Blade Finish: Mirror
Handle Thickness: 0.88"
Handle Material: Walnut Wood
Sheath: Leather
Weight: 8.7 oz.
Weight with Sheath: 12.1 oz.
Copper Coated Stainless Steel Cap and Guard
Made in the USA
The Ek Model 5 ($140.03) is KA-BAR's third introduction into the John Ek Commando Knife Co. product line. This updated version of the occupational fighting knife with hilt is made from 1095 Cro-Van and features a parkerized bowie blade, textured glass filled nylon handles and traditional X-head fasteners. A US-made Celcon® sheath with retaining strap, self-locking function and multiple tie-down points is also included. Made in the USA.
Specifications

Blade Length: 6.875"
Cutting Edge: 6.25"
Blade Thickness: 0.157"
Handle Length: 5.875"
Overall Length: 12.9375"
Blade Material: 1095 Cro-Van
Blade Style: Bowie
Blade Grind: Flat
Blade Finish: Black Parkerized
Handle Thickness: 0.87"
Handle Material: Glass-Filled Nylon
Sheath: Celcon with Nylon Retention Strap
Weight: 10.3 oz.
Weight with Sheath: 14.6 oz.
Made in the USA