Donate to Win
Kahr Arms Special Edition TIG Series Kahr ST9 Pistol
Retail Value:
$541.00
**** Chosen by Winner:
Brian S.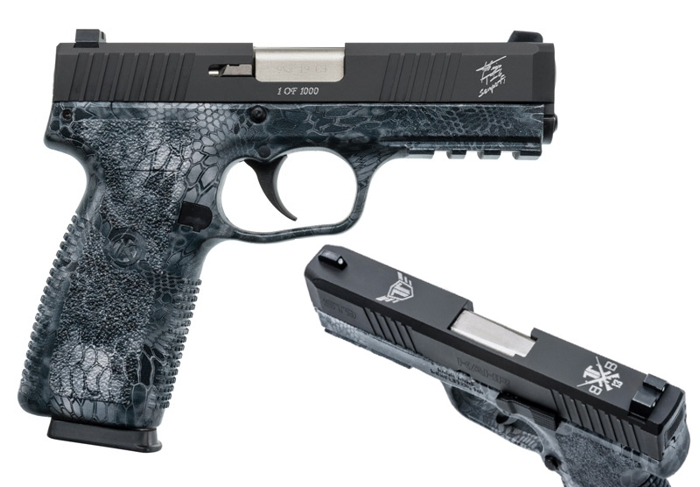 NOTE: Firearm will not be shipped directly to winner, but rather to Federal Firearms Licensee ("FFL") specified by winner (or selected by Knife Rights in Knife Rights' sole discretion). Winner can only take possession of firearm from the FFL. Winner must comply with all applicable legal requirements prior to taking possession of firearm. Winner is responsible for a shipping charge ($40 Pistol Caliber Pistols/$70 Rifle Caliber Pistols and Long Guns) and any fees charged by receiving FFL. Optics and Accessories will ship separately, not via the FFL. Click for complete rules.
Kahr Arms TIG series ST9 pistol is a 9mm sub-compact pistol with 4" barrel featuring Kryptek Typhon print on the polymer frame with accessory rail, a blackened stainless steel slide, front slide serrations, and white three-dot sights. It ships with two eight-round magazines.  Engravings on each pistol will include its number in the series, the TIG logo, TIG's signature and the Beyond the Battlefield logo.
John "TIG" Tiegen is co-author of 13 Hours: The Inside Account of What Really Happened in Benghazi, American hero, former GRS Operator and survivor of the attacks.
Part of the proceeds from the sale of each firearm will be donated to the Beyond the Battlefield (BTB) Foundation by Kahr Firearms Group, the parent company of Kahr Arms. Beyond the Battlefield is a non-profit 501(c)(3) organization that John "TIG" Tiegen and his wife, Margaret, founded in 2017. Its mission is to provide support for wounded veterans as they face the many challenges encountered during rehabilitation, the healing process and reintegration into everyday life.
SKU: ST9093TIG
Caliber: 9mm
Slide: Black Armor Cerakote™ Stainless Steel Slide with front serrations, engraved with the TIG logo, BTB logo, and John TIG Tiegen signature
Barrel: Conventional rifling; 1-10 right-hand twist
Length O/A: 6.5"
Height: 5.08"
Slide Width: 0.90"
Weight: Pistol 18.5 ounces, Magazine 2.1 ounces
Grip: Textured polymer with Serial ID tag
Frame: Black polymer with accessory rail
Sights: White 3 Dot sights
Magazines: 2 - 8 Round