Donate to Win
CIVIVI (by We Knife) Knife Rights 2020 Limited Edition "Rewriting Knife Law" Wyvern Flipper: $58 Retail Value Without Engraving - ALL GONE!*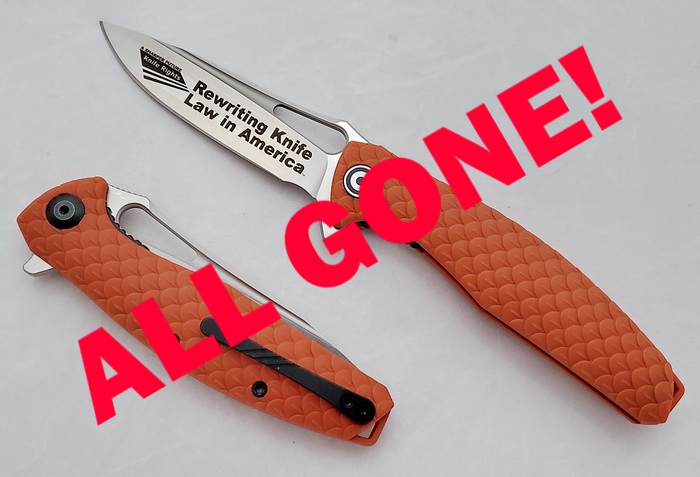 This CIVIVI (by We Knife) Knife Rights 2020 Limited Edition "Rewriting Knife Law" Wyvern features laser engraved Knife Rights Sharper Future logo and "Rewriting Knife Law in America"  trademarks.
Generously donated by We Knife - Retail Value without engraving: $58 - ALL GONE!*

Includes 9 Entries (4 FREE) + FREE Annual Membership or Renewal
The CIVIVI (by We Knife) Wyvern is a premium design that comes in at a value price point thanks to its excellent use of materials. Tough D2 tool steel (not quite stainless) and molded "Dragon Scale" fiberglass-reinforced nylon keep this knife at the incredible price point you see here. CIVIVI does not cheap out in terms of internals or accessories either, this knife is equipped with stainless bearings in the pivot and a sculpted titanium pocket clip. It flips and retains in the pocket just like the more expensive WE models it was based on, and the ergonomic grip can be used all day long without fatigue.

Specifications
Blade Length: 3.45" (88 mm)

Closed Length: 4.45" (113 mm)

Overall Length: 7.90" (201 mm)

Blade Material: D2 Tool Steel

Blade Thickness: 0.120" (3.0 mm)

Blade Hardness: 59-61HRC

Blade Style: Drop Point

Blade Grind: Hollow

Blade Finish: Satin

Handle Material: Orange Dragon Scale Textured FRN

Handle Thickness: 0.63" (16.0 mm)

Liner Material: Stainless Steel

Locking Mechanism: Liner

Pivot Assembly: Bearings

Pocket Clip: 6Al4V Titanium (Tip-Up, Right Carry)

Weight: 3.0 oz. (85 g)

FRN Backspacer
*While supplies last. Void where prohibited. Please allow up to 16 weeks for delivery of Donation Bonus Knives