Donate to Win
Custom Paul Markow Engraved, Raluca Markow Scrimshawed, Robert Merz Lockback Automatic Dagger
Retail Value:
$2,500.00
Donated By:
Robert Merz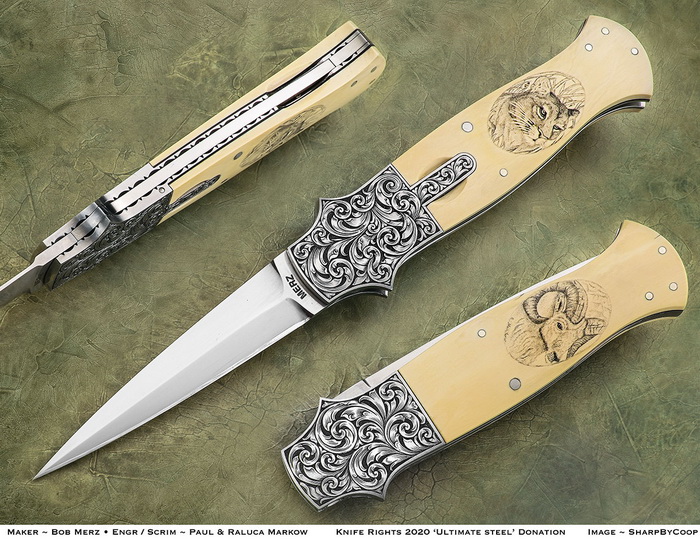 NOTE: It is not legal for residents of California, Hawaii, Illinois, New York and New Jersey to receive this prize due to these states' ban on ivory trade that includes 10,000-year-old fossil ivory. Click for complete rules.
NOTE: Restrictions on delivery of automatic knives in accordance with federal and state laws apply. Click for complete rules.
Robert Merz has crafted an extraordinary Lockback Automatic Dagger with elegant engraving by Paul Markow and scrimshaw by Raluca Markow, a talented husband and wife team. The engraved trigger opens a single-edged dagger blade of hand-rubbed CPM 154 high carbon powder metallurgy stainless steel, 3.5 inches long. The 416 Stainless Steel frame features integral bolsters engraved by Paul and Interior Mammoth Ivory scales with Raluca's scrimmed Cougar and Ram. The frame is fileworked on the spine  It is 4.75 inches closed and 8.125 inches open. Hold tight, Bob's autos kick open with authority!