Donate to Win
Ruger Precision Rifle Magnum .338 Lapua Magnum PLUS Crimson Trace Hardline Pro 6-24x50 Scope PLUS Wheeler Picatinny Scope Rings PLUS Caldwell E-MAX Shadows Bluetooth Ear Plugs PLUS Caldwell XLA Bipod
Total Retail Value:
$3,250.96
Donated By:
Sturm, Ruger & Co, Crimson Trace, Wheeler & Caldwell
**** Chosen by Winner:
Larry H.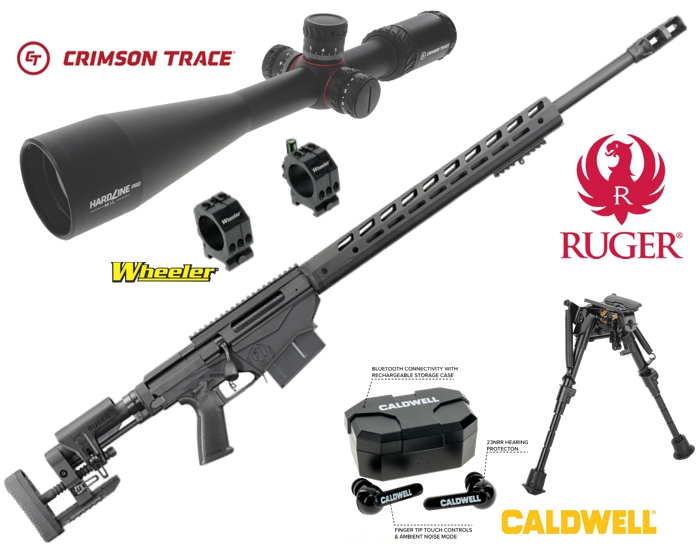 NOTE: Firearm will not be shipped directly to winner, but rather to Federal Firearms Licensee ("FFL") specified by winner (or selected by Knife Rights in Knife Rights' sole discretion). Winner can only take possession of firearm from the FFL. Winner must comply with all applicable legal requirements prior to taking possession of firearm. Winner is responsible for a shipping charge ($40 Pistol Caliber Pistols/$70 Rifle Caliber Pistols and Long Guns) and any fees charged by receiving FFL. Optics and Accessories will ship separately, not via the FFL. Click for complete rules.
Ruger Precision Magnum Rifle in .338 Lapua Magnum - Model 18080 ($2,099)

Stock: Folding, Adjustable Length of Pull and Comb Height

Finish: Type III Black Hard-Coat Anodized

Barrel:  Length26"

Barrel: Cold Hammer-Forged, 5R Rifling

Thread Pattern: 3/4"-24

Twist: 1:9.375" RH

Grooves: 5

Weight: 15.2 lb.

Capacity5

Height: 7.50"

Overall Length: 49"-52.50"

Length of Pull:12.70" - 16.20"

Folded Length: 40.35"

Width:3.50"

In-line recoil path manages recoil directly from the rear of the receiver to the buttstock, not through a traditional bedding system, providing maximum accuracy potential.

Cold hammer-forged, chrome-moly steel barrel with 5R Rifling at minimum bore and groove dimensions, minimum headspace and centralized chamber.

Ruger Marksman Adjustable™ trigger is externally adjustable, with a trigger pull range of 2.25 to 5 pounds; wrench is stored in the bolt shroud.

Ruger Precision® MSR stock features a bottom Picatinny rail and soft rubber buttpad. The left-folding stock hinge accepts any AR-style stock. Length of pull and comb height are adjustable.

Heavy-contour (.875" at the muzzle) barrel features a Ruger Precision® Rifle Magnum Muzzle Brake with tunable compensator to effectively reduce recoil and muzzle jump.

18" aluminum free-float handguard is black hard-coat anodized aluminum and features Magpul® M-LOK® slots on all four sides for improved scope clearance for long-range scopes and easy mounting of M-LOK-compatible rails and accessories.

Ambidextrous manual safety for left- or right-handed lever manipulation.

30 MOA Picatinny rail secured with # 8-40 screws for increased long-range elevation capabilities.

"Upper" receiver and one-piece bolt are precision CNC-machined from pre-hardened 4140 chrome-moly steel to minimize distortion.

Three-lug bolt with 70° throw features dual cocking cams and a smooth-running, full diameter bolt body. Bolt body is nitrided for corrosion resistance, smooth operation and durability.

Barrel can be replaced easily by a competent gunsmith using headspace gauges.

Magazine well front is contoured for a positive grip when bracing against shooting supports.

Oversized bolt handle for positive bolt manipulation, with a 5/16"-24 thread pattern for easy replacement. Bolt disassembly tool is stored in the Ruger Precision® Rifle Billet Aluminum Bolt Shroud for easy striker channel cleaning.

"Lower" magazine well halves are precision machined from aerospace-grade 7075-T6 aluminum and are Type III hard-coat anodized for maximum durability.

Extended trigger-reach AR-style grip and 45° ambidextrous safety selector. May be configured with any AR-style grip and selector.

Handguard includes integral QD sling attachment points to eliminate the need for additional adaptors, a target-style flat bottom that improves stability and an integral bottom 1.50" dovetail that is compatible with RRS S.O.A.R. and similar QD systems.

Also includes: two, 5-round AI-Style magazines.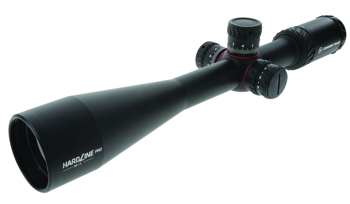 Crimson Trace Hardline Pro 6-24x50 FFP MIL ILL ($899.99) The Crimson Trace Hardline Pro optics are designed with the experienced tactical and target shooter in mind and have been purposefully built from the ground up. The line features aerospace grade 30mm tubes with First Focal Plane (FFP) options. The line offers short, medium and long-range optics with a variety of custom reticles. They are fully multi-coated, nitrogen purged, shock resistant, and ready for whatever elements they encounter. All Crimson Trace® scopes are covered under the LIFETIME protection guaranteed warranty and backed by our award-winning customer service team

Specs
Magnification: 6-24x
Reticle: Illuminated MR1-MIL
Focal Plane: 1st Focal Plane
Material: Aerospace Aluminum
Eye Relief (in): 3.6-4
Objective Lens Diameter: 50mm
Tube Diameter: 30mm
Click Value: 0.1 MIL
Turrets: Exposed
Illumination: YES
Light Transmittance (%): 90
Dimensions (W x H x L): 3.7 in x 3.1 in x 15.6 in
Product Weight (oz): 24.67
Lens Coating: Green Multi Coated
Rear Mounting Length (in): 2.1
Front Mounting Length (in):  2.7
Features
RETICLE: Illuminated MR1-MIL
GUARANTEED: All Crimson Trace Scopes are covered under a Full Lifetime Warranty. For questions or warranty contact us at support@crimsontrace.com
INCLUDES: Lens cloth, scope caps and battery
SCOPE DIMENSIONS: 15.6" x 3.7" x 3.1"
MATERIAL: Constructed from durable, lightweight aerospace aluminum and green multi coated high-quality glass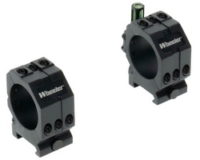 Wheeler 2 Piece Picatinny Scope Rings ($59.99) Securely mount your scope to any picatinny rail. The 6-screw design provides increased clamping force to keep the optic in place during recoil and the integrated articulating anti-cant mechanism helps keep your gun level for your long range shots. Centerline height from top of rail: Low - 0.775 in Medium - 0.950 in High - 1.100 in 
The Caldwell E-Max Shadows ($149.99) are Bluetooth, rechargeable electronic ear plugs designed to go where you go, play all your music, and keep your ears protected. High quality stereo sound is Bluetooth compatible with your mobile device and comes with a 23dB noise reduction rating. Dual microphones provide directional clarity and come equipped with easy to use touch volume controls. The charging case comes with an integrated lithium battery.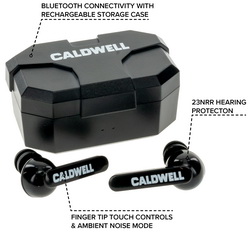 Features Include:
23db noise reduction
Battery Life: 5 Hours per charge
Includes a case that can recharge the earplugs 4-5 times
Bluetooth Pairing with phones or other capable devices for music or phone calls
Multiple ear tips included
Adjustable ambient sound amplification
The Caldwell XLA Bipod ($41.99) provides a stable shooting support that conveniently attaches to almost any firearm with a sling swivel stud. XLA bipods solidly clamp to the swivel stud of the firearm and remain firmly in place without swiveling or twisting while shooting. The lightweight aluminum design adds minimal weight and deploys quickly, with legs that instantly spring out to the shooting position with the touch of a button. The legs are notched for easy indexing to a specific height. There is a connection point for sling attachment and multi section legs that collapse forward allowing for convenient carry of the firearm. Soft rubber feet provide enhanced stability, while the padded bipod base protects the firearm's forend.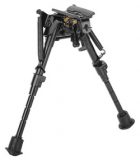 Features
Lightweight aluminum design
Legs that instantly spring out to the shooting position with the touch of a button
Legs collapse forward for transport
Durable rubber feet provide enhanced stability
Padded base protects firearm fore-end