Donate to Win
Sig Sauer MCX-SPEAR LT in 5.56 NATO PLUS Sig Sauer TANGO-MSR LPVO 1-6x24mm Rifle Scope PLUS Sig Sauer SLX556C-QD Compact Quick Detach Suppressor PLUS Powered by Silencer Shop Package PLUS Hogue SIG X1-MicroFlip SIG Emperor Scorpion

Total Retail Value:
$5,248.95
Donated By:
Sig Sauer, Silencer Shop and Hogue Knives
**** Chosen by Winner:
Zac O.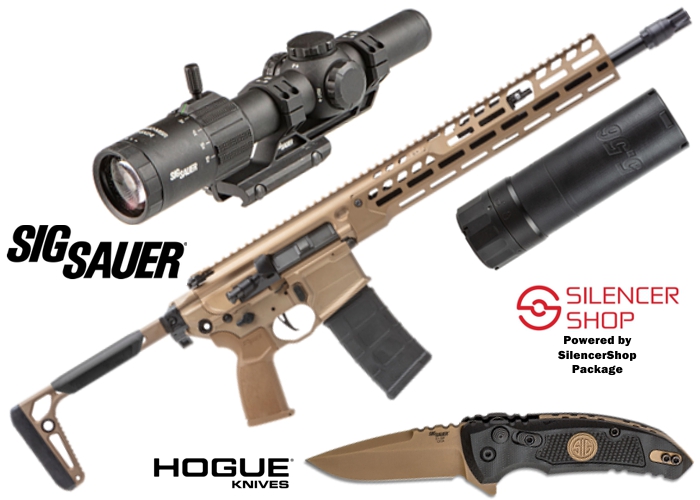 NOTE: Firearm and optional suppressor will not be shipped directly to winner, but rather to Federal Firearms Licensee ("FFL") specified by winner (or selected by Knife Rights or Hill Country Class 3 LLC d.b.a. Silencer Shop (Silencer Shop), in Knife Rights' and Silencer Shop's sole discretion). Winner can only take possession of firearm and suppressor from the FFL(s). Winner must comply with all applicable legal requirements prior to taking possession of firearm or suppressor. Winner is responsible for shipping charge ($40 Pistol/$70 Rifle Caliber) and any fees charged by receiving FFL. Click for complete rules.
NOTE: Restrictions on delivery of automatic knives in accordance with federal and state laws apply. Click for complete rules.
The Sig Sauer MCX Spear LT in 5.56 NATO ($2,730) is the newest addition to the MCX family. The new MCX-Spear LT uses advancements made by the MCX Virtus as well as the new U.S. Army selected M5 SPEAR and takes the next step in the platform's evolution. First, the new handguard system is lighter and more rigid thanks to its new shape and attachment screws to allow for retaining zero on things such as laser aiming units. A lightened barrel contour saves weight and improves accuracy. The already leftie friendly MCX series has become even better with the new ambidextrous bolt catch as found on the M400 SDI. This makes weapon manipulation and malfunction clearance even more natural. The lower has been further improved with the inclusion of SIG's flat blade match trigger, while also now being compatible with most standard AR-15 triggers. The minimalist folding stock and the receiver QD points are strengthened by the use of steel inserts. The included flash hider is ready to accept Sig Sauer QD Clutch-LOK suppressors out of the box.
Lightweight Ergonomic Handguard

SIG Flatblade Match Trigger

Fully Ambidextrous Controls

Interchangeable Barrels

SIG QD Suppressor-Ready Flash Hider
The Sig Sauer TANGO-MSR LPVO 1-6x24mm Rifle Scope ($499) features:
High Performance 6x optical system with low dispersion glass

Integrated thread in throw leaver for quick magnification changes

Illuminated MSR BDC-6 reticle with 11x brightness levels

Lay flat flip-back lens covers included

Dependable waterproof, shockproof, and fog-proof performance

Includes ALPHA-MSR 1 piece aluminum cantilever mount
Sig Sauer's Suppressor new line up is intended to meet the demands of the shooter no matter what the environment is and the SLX556C-QD ($1,480) is no exception. The SLX was developed to meet the demands of the U.S. military, and are designed to deliver cutting-edge performance. The SLX series of rifle suppressors feature the new Clutch-LOK QD mounting system which is easy to use, repeatable, and extremely durable. The internal multi-flow path within the SLX suppressors allows gasses to exhaust at a faster rate than traditional baffle-style suppressors. This results in 70-80% less toxic fumes flowing back through the ejection port into the shooter's face. The SLX series is a performance-based suppressor designed for use with supersonic ammunition and ideal for users focused on flash reduction and lower toxic fumes. The new low-tox SLX suppressors deliver a superior shooting experience, unlike any other suppressor. The internal multi-flow path of the SLX with low resistance exhausts gases at a faster rate than traditional baffles. SLX features 70-80% less PPM than traditional baffle suppressors.*
Caliber: 5.56 NATO
High Temperature Black Cerakote
Inconel Core
Clutch-Lok Quick Detach Mounting
Muzzle Break Included (1/2x28)
Compact Design of only 5.2"
Powered By Silencer Shop Package (Retail Value $335): If you choose to accept the suppressor prize, but are new to the suppressor world, DON'T WORRY! Silencer Shop is powering every step of the transaction. All required paperwork and fees will be handled for the recipient utilizing the nationwide Powered By Silencer Shop network of dealers. Silencer Shop is including the following*:
FREE Single Shot Trust
FREE Tax Stamp Payment
FREE Transfer to the Powered By Silencer Shop Dealer of Your Choice
* Additional rules apply for suppressors. Click for complete rules.
Hogue Knives SIG X1-MicroFlip SIG Emperor Scorpion ($204.95) Hogue Knives has partnered together with SIG Sauer to deliver a full line of quality SIG Sauer branded knives. These fine tactical and sporting knives represent the ultimate value in tactical folders and fixed blades: the vision of renowned custom knifemaker Allen Elishewitz expressed through Hogue's state-of-the-art manufacturing processes. Made in America by American craftsmen, a Hogue knife at your side is a trusted — and trustworthy — companion, an heirloom quality blade combining the best of old-world craftsmanship and design set in the context of modern-day, real-world applications for a tactical blade.
This X1-MicroFlip is another addition to Hogue's quality line of folding knives. It features a 2.75" flat dark earth PVD drop point blade and a solid black G10 handle. The MicroFlip's unique patent-pending blade retention device allows for one-handed deployment and closure without placing the hand in the path of the blade. The manual safety locks the knife both open and closed to prevent accidental deployment.
SIG SAUER MCX Spear LT Specifications
SKU: RMCX-556N-16B-LT
CALIBER: 5.56 NATO
BARREL LENGTH: 16"
TWIST RATE: 1:7
THREADS: 1/2X28
BARREL MATERIAL: Carbon Steel
MUZZLE DEVICE: Sig QD Suppressor-Ready Flash Hider
ACTION/OPERATING SYSTEM: Semi-Auto/Gas Piston
TRIGGER TYPE: Sig's Flat Blade Match Trigger
CONTROLS: Fully Ambidextrous
FOREND TYPE: Lightweight, ergonomic, free floating M-LOK handguard
STOCK TYPE: Minimalist folding stock with steel QD insert and removable cheekpiece.
RECEIVER FINISH: Flat Dark Eart
OVERALL LENGTH: 34.3"
OVERALL WIDTH: 2.9"
HEIGHT: 7.5" without magazine
WEIGHT: 7.5 lbs.
MAGAZINE: AR-15 type - One 30-Round Polymer Included
SIG X1-MicroFlip Emperor Scorpion Specifications
Blade Length: 2.75"

Closed Length: 3.85"

Overall Length: 6.60"

Blade Thickness: 0.12"

Blade Material: CPM-154 Stainless Steel

Blade Hardness: 57-59HRC

Blade Style: Drop Point

Blade Grind: Hollow

Blade Finish: Flat Dark Earth PVD

Blade Treatment: Cryogenically Heat Treated

Handle Material: Solid Black G10 with Mini Piranha Texture and Flat Dark Earth PVD SIG Medallion

Locking Mechanism: Push Button with Safety

Pocket Clip: Deep Carry Tip-Up Reversible with Filler Plate

Designer: Allen Elishewitz

Weight: 2.9 oz.

Made in the USA