Donate to Win
Smith & Wesson SW1911 E-Series .45 Auto PLUS Crimson Trace LG-901G Green Master Series Lasergrips - Rosewood PLUS Crimson Trace CWL-300 Handheld Tactical Light PLUS Smith & Wesson M&P Officer Tactical Range Bag PLUS Smith & Wesson Throwing Knives
Total Retail Value:
$1,642.96
Donated By:
Smith & Wesson
**** Chosen by Winner:
Loren B.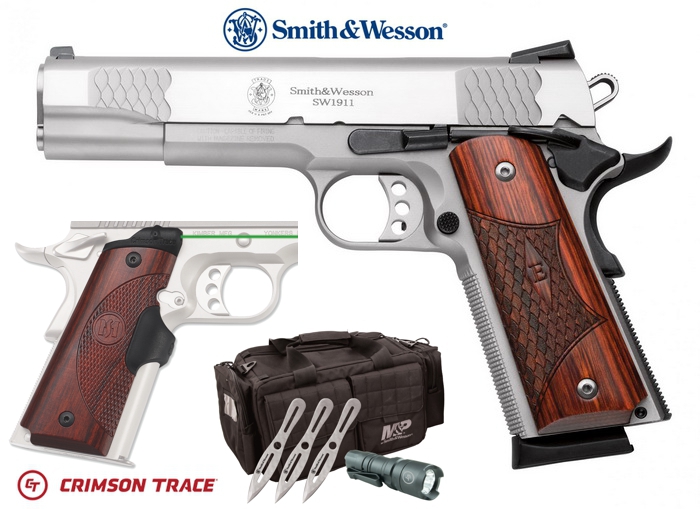 NOTE: Firearm will not be shipped directly to winner, but rather to Federal Firearms Licensee ("FFL") specified by winner (or selected by Knife Rights in Knife Rights' sole discretion). Winner can only take possession of firearm from the FFL. Winner must comply with all applicable legal requirements prior to taking possession of firearm. Winner is responsible for a shipping charge ($40 Pistol Caliber Pistols/$70 Rifle Caliber Pistols and Long Guns) and any fees charged by receiving FFL. Optics and Accessories will ship separately, not via the FFL. Click for complete rules.
Smith & Wesson SW1911 E-Series .45 Auto ($979)  Precision. Accuracy. Performance. With a remarkable selection of SW1911's, Smith & Wesson continues its tradition of innovation and its commitment to bringing shooters the finest quality high performance firearms. Smith & Wesson's variations of John Moses Browning's extremely popular 1911 design can be seen in the production, Pro Series, and Performance Center line of SW1911 pistols. These 1911's are manufactured with a wide variety of materials, finishes and unique features and are favorites in any collection.
SKU: 108482
Model: SW1911 E-Series™
Caliber: 45 AUTO
Capacity: 8+1
Safety: Grip & Thumb
Barrel Length: 5" / 12.7 cm
Overall Length: 8.7"
Front Sight: White Dot
Rear Sight: White 2-Dot
Action: Single Action
Grip: Wooden Laminate E-Series™
Weight: 39.6 oz / 1,122.6g
Barrel Material: Stainless Steel
Slide Material: Stainless Steel
Frame Material: Stainless Steel
Slide Finish: Stainless Steel
Frame Finish: Satin Stainless
Crimson Trace LG-901G Green Master Series™ Lasergrips - Rosewood for Full-size 1911 ($499.99) Machined to fit seamlessly while bringing both artistry and rugged engineering to John Browning's classic 1911 design, Green Master Series™ Lasergrips® are sure to impress. Featuring ergonomic and beautiful Rosewood side panels with a rubber overmolded activation button; these are the ultimate laser sights. Standard to Crimson Trace Lasergrips, the LG-901G features Instinctive Activation™. This means that the laser sight automatically springs to life when the weapon is held in a natural firing grip.
Master Series Lasergrips are fully compatible with ambidextrous safeties.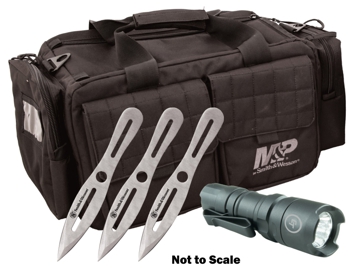 CWL-300 Handheld Tactical Light ($69.99)  The CWL-300 is a compact and powerful handheld tactical flashlight from the brand you trust for personal protection optics. Featuring high & low modes with momentary and constant activation, the CWL-300 boasts 200 Lumens (peak) to 50 Lumens (low) and offers 2 hours to 8 hours (respectively) of battery life. The CWL-300 Tactical Light is waterproof up to 1 meter.
Smith & Wesson M&P Officer Tactical Range Bag ($64.99)  All Smith & Wesson® and M&P® gun cases and bags are designed with quality and durability in mind. Built to hold under extreme use and harsh conditions, these cases and bags have features that will protect your gear no matter what. Our Officer Tactical Range Bag has durable ballistic fabric and thick nylon strapping to ensure it will outlast the nastiest circumstances. The heavy-duty hardware, oversized zippers, and top-of-the-line hook and loop closures are sure to keep everything exactly how you had it, all in one piece.

The Smith & Wesson 3 Pack 10" Throwing Knives ($28.99) have stainless-steel dual edged spear point blades. A polyester belt sheath is included.