Donate to Win
Custom Brian Tighe Damasteel Tighe Down Integral Flipper
Retail Value:
$1,600.00
Donated By:
Brian Tighe
**** Chosen by Winner:
James V.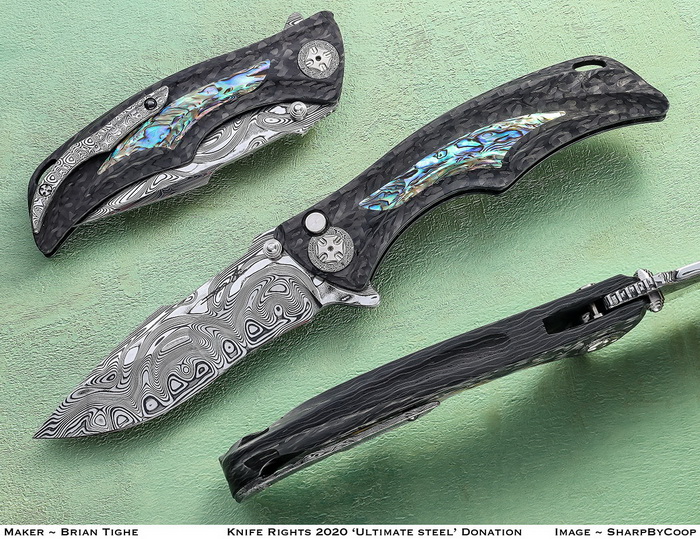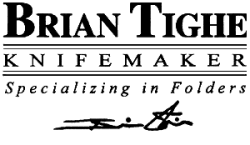 Longtime Knife Rights supporter Brian Tighe has donated an extraordinary example of one of his Tighe Down Integral folder.  The integral construction keeps the lines of this knife very clean, while the Carbon Fiber handle with Abalone Inlay and Damasteel Stainless Damascus blade make this knife functional art that stands out from the crowd.

The Damasteel blade glides on Brian's STBS (Sealed Thrust Bearings System) for some of the smoothest operation on the planet and deploys via a flipper. Dual thumbs studs are also provided.  A compound ground recurve harpoon point blade provides an excellent combination of strength and cutting performance as well as strong visual lines to complement the overall design of the knife.
After inlays of the natural Abalone were inserted, the solid piece Carbon Fiber is 3D-milled to create the integral handle. The fluted pattern on the sides give the knife a very organic and futuristic look while the carbon fiber pattern that is exposed is visually striking, to say nothing of the  contrast with the colorful Abalone. Brain's renowned button lock secures the blade when open. It sports a custom pivot with a Damasteel collar. The pommel end has a milled channel for lanyard attachment. A tip-up, right hand, Damasteel pocket clip is fitted and it comes with a Brian Tighe signature zipper pouch.

Blade Length: 4"
Overall Length: 8.125"
Blade Material: Damasteel
Opening Mechanism: Flipper / Dual Thumbstuds
Lock: Button Lock
Closed Length: 5.25"
Handle: Material Carbon Fiber with Abalone Inlay
Clip: Damasteel with Ball
Weight: 4.1 oz.