Total Retail Value:
$462.93
Donated By:
American Outdoor Products' Tipton
**** Chosen by Winner:
Peter C.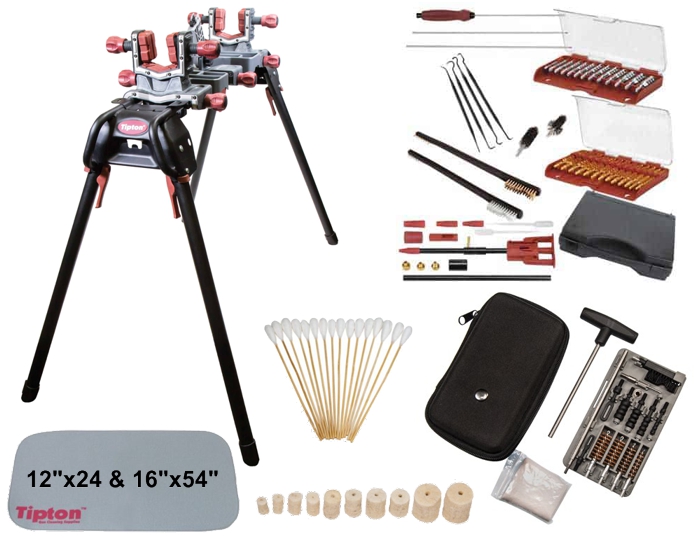 The good folks at Tipton have put together a great Gun Cleaning Package with an assortment of gear and supplies to make cleaning your firearms a breeze.
Standing Ultra Gun Vise ($237.99) When it comes to properly cleaning your firearms, Tipton made the Standing Ultra Gun Vise for your every need. We took the Ultra Gun Vise and added collapsible legs, so you can comfortably and completely access your rifle. Whether you are mounting scopes or cleaning or accessorizing you have the option to stand or sit while working on your firearm or crossbow. The Ultra Gun Vise works with virtually any size firearm (may it be AR-15's or pistol) or crossbow, so you can efficiently clean your firearm. Legs are collapsible making storing easy when it's not in use. Its engineered with glass-filled nylon construction giving a high level of rigidity while preventing damage to your firearm or crossbow. The dual clamp technology holds any gun in place, and its solvent-resistant materials stand up to years of hard use making this the last gun vise you'll ever need. Tipton's proprietary Standing Ultra12 16"x54" Gun Vise is specifically engineered to clean accurately, so you can get back to shooting.
Free standing, 4-leg system removes the need for a table or a bench and includes an Ultra Gun Vise Modular Chassis
Oversized levers for easy leg deployment and built-in bottle opener
35″ height for optimal comfort while working
Lightweight, weighing approximately 20lbs
Makes cleaning convenient in the field or on the range
Ultra Cleaning Kit ($141.99) The Tipton® Ultra Cleaning Kit was designed for the shooter that wants the absolute highest quality cleaning accessories available in one convenient portable kit. The heart of the kit is a Premium 3-piece Stainless Steel Cleaning Rod with multi bearing handle. The.205 dia, 40" usable length rod is constructed of 17-4 PH stainless to be extremely durable and resist taking a bend (the problem that plagues most multi section rods). The kit features Tipton's® 13 pc. Utra Jag Set and 13 pc. Best Bore Brush which both deliver industry leading performance. Also included is Tipton's innovative RAPID Deluxe Bore Guide Set, which enhances the ability to clean any rifle. A variety of picks and cleaning brushes round out the assortment in the kit. All components are neatly contained in the molded plastic case with custom die cut foam for organization. For use with .22 cal and larger rifles.
Highest quality cleaning kit available
3-piece rod constructed of extremely high strength 17-4 PH Stainless Steel
Rapid Deluxe Bore Guide
13 pc Ultra Jag Set with case
13 pc Best Bore Brush Set with case
Two general purpose brushes, 1 nylon, 1 bronze
AR-15 bolt carrier and action brushes
4 polymer cleaning picks
Customized case with die cut closed cell foam with room to hold liquids, patches…
Easy to transport
Tipton Compact Pistol Cleaning Kit ($27.99) Hold the power to clean multiple handgun calibers in the palm of your hand with the Tipton Compact Pistol Cleaning Kit. This kit comes in a semi-rigid, zippered carry case and can be used on handgun calibers ranging from .22-.45. Whether you travel a lot, clean at the range, or like to be organized at home, this kit is the perfect size for storing in small spaces and durable enough to take anywhere.
For use on pistol calibers ranging from .22-.45
Semi-rigid carry case
Collapsible cleaning rod with rotating T-handle
Stainless steel cleaning rod
Includes: Cleaning pick, (10) cotton cleaning patches, nylon cleaning brush, bronze bore brushes and nylon jags (.22 cal, 9mm/.357/.38 cal, .40/10mm cal, .45cal), (2) nylon slotted tips
Firearm Maintenance Mats 12"x24" & 16"x54" ($9.99 & $18.99)  The perfect material to lay on your workbench while cleaning or disassembling firearms. Padded neoprene construction protects firearm finishes while helping keep track of small parts. Excess oils and solvents are absorbed into the mat, keeping the surface clean and dry. The Tipton® Maintenance Mats roll easily to fit in your range box. Hand washable
Tipton Felt Cleaning Pellets ($13.99) Our Felt Cleaning Pellets are manufactured from heavy felt. These pellets remove dirt and lead residue from the barrel, but they do not take the place of a thorough cleaning with a rod. With regular use they will help maintain accurate performance.
Compressed felt pellets .17-.50 cal
Pellets are tough and durable for superior cleaning and are easier to use than patches
Each pack includes 1 caliber-correct nickel plated jag
Available in a multi-caliber pistol kit with assorted pellets and jags
Provides more consistent fit in lands and grooves of rifling for superior cleaning
Power Swabs Pistol Cleaning Kit - QTY 500 ($11.99) Durable cotton swab construction with 7.5″ flexible bamboo handle
Disposable
Fits lands and grooves better than a patch for maximum cleaning
No mess cleaning
Fast and easy to use