Total Retail Value:
$400.00
Donated By:
TOPS Knives
**** Chosen by Winner:
Edward D.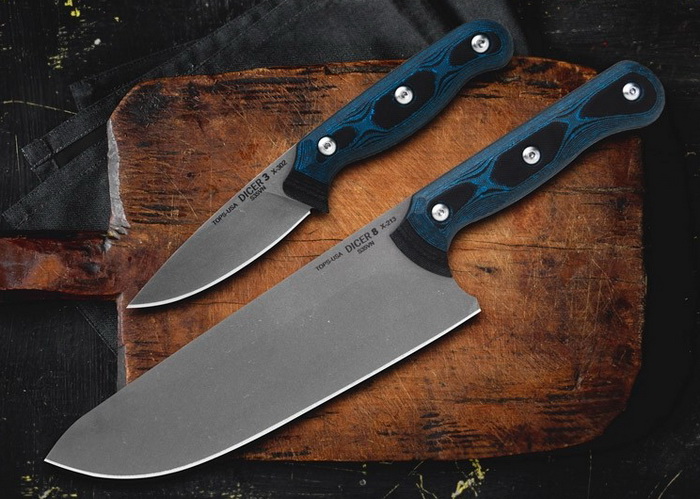 The Dicer series is TOPS first entry into kitchen cutlery. Perhaps the two most common knives used in kitchens all over the world are the chef's knife and the paring knife.
Now a tradition at TOPS Knives, an employee design contest takes place each year. TOPS asks its employees to design a knife for specific use with some required specs. In 2016, it was a hatchet. In 2017, it was a chef's knife. And that is how the Dicers were born.
Jesus Arellano has been the graphics manager at TOPS since 2013. Nearly all of the photographs on the TOPS website, social media accounts, and advertisements are either taken by Jesus or edited by him. Out of over 20 submissions, his design for a chef's knife was selected as the one we liked the best.
So the Dicer 8 chef's knife was the first in the series to be designed. The blade is roughly 7.75" in overall cutting edge with a little more belly than a standard chef's knife and is made using CPM S35VN steel. The premium steel will hold its edge better than most kitchen knives and take a very keen edge. The handles were made to be comfortable with a lot of contouring, especially where the thumb and index finger would grip for a pinch grip. This makes using the knife for long periods, preparing large meals for family and friends, for example, a breeze.
Since you can't have just one knife in the kitchen, the Dicer 3 Paring knife was the obvious 2nd choice for the Dicer series of knives. The two most used kitchen knives almost anywhere are the chef's knife and the paring knife. The Dicer 3 has a 3.5" cutting edge with an aggressive pointed tip. It is also made of CPM S35VN steel to provide a quality knife to last a lifetime. The sandwiched Micarta and G10handle is patterned after the Dicer 8 with the same contouring for maximum comfort while using the knife.
Both knives also come with a Kydex blade cover so that the knife can be stored in a drawer or easily taken to the campsite for preparing food outdoors. If you already love TOPS' quality, fit and finish for your other knives, the Dicer kitchen knives will be a no brainer.
Overall Length 12.25" / 7.88"
Blade Length 7.75" / 3.5"
Cutting Edge 7.75" / 3.5"
Blade Thickness 0.090"
Blade Steel CPM S35Vn
Blade Finish Tumble Finish
Handle Material Black Canvas Micarta/Blue-Black G10
Knife Weight 9.1oz / 4oz
Weight w/ Sheath 11.0oz / 5.4 oz
Sheath Included Yes
Sheath Material Black Kydex
Designer Jesus Arellano