Donate to Win
Wicked Edge Precision Sharpener - WE130 with Aluminum Base
Retail Value:
$650.00
Donated By:
Wicked Edge
**** Chosen by Winner:
Jermaine K.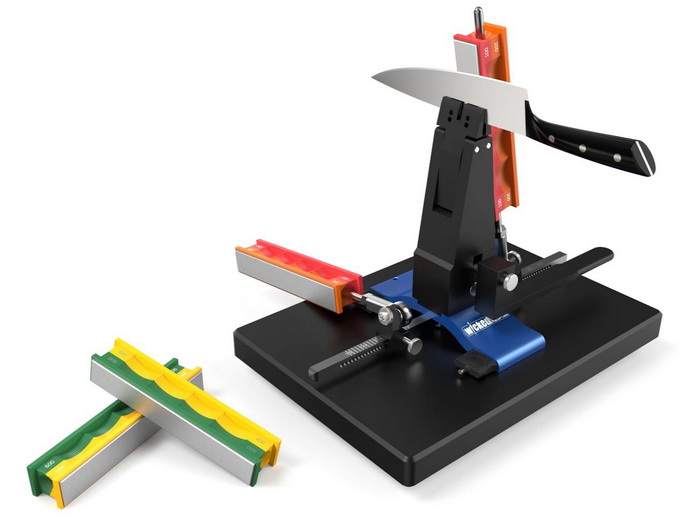 The WE130 is our most versatile sharpener. It offers you the ability to clamp the widest variety of knife grinds, gives you the widest range of angles and the ability to adjust the angles independently. These features create a sharpening system with a highly controlled level of precision for the serious knife enthusiast.
The WE130 Precision Sharpener includes our patented Generation 3 Cam-Lock Vise. This vise is ideal for accommodating a wide variety of knife grinds, including fully flat and hollow ground blades. The Split Jaw Design of the vise allows the jaws to flex so they can firmly grasp distally tapered blades, like many everyday-carry pocket knives and kitchen knives. It offers an expansive range of sharpening angles, allowing you to sharpen a wide assortment of blades, from 13 to 35 degrees per side. Blades with wider angles such as cleavers, bushcraft knives, and blades with chisel grinds, are all possible on this sharpener, as well as blades with low angles, like many Japanese knives and many knives made from modern super steels. The WE130 also provides independent angle adjustment, allowing you to sharpen asymmetrical grinds.
For avid sharpeners, collectors and knife enthusiasts, the desire to retain the original design or a custom bevel on your knife is paramount to your passion for knives. This sharpener offers coarse angle adjustments in 1 degree increments and micro adjustments of .05 degrees, giving you the flexibility to match the original bevels of your knives without the need to modify the knife's original grind or unnecessarily remove excess material.
The included 10" Guide Rods will allow you to handle knives up to 15 inches in length and the vise has a maximum clamping capacity of 3/16" with an optional attachment (sold separately) for clamping knives with thicknesses up to 1/4". The WE130 Sharpener can be easily mounted to a home workstation or it can be mounted to any of the bases we offer, with the provided hardware.
Sharpens a very wide assortment of knives - offers the most versatility

Generation 3 Cam-Lock Vise - one-step knife clamping and doesn't require additional tools to operate

Widest range of customizable angles

Ability to adjust angles independently for asymmetrical grinds

Clamps the widest variety of knife grinds, including blades that are full-flat-ground or distally tapered

Includes Coarse 100 Grit / Medium Coarse 200 Grit Diamond Stones Pack

Includes Medium Fine 400 Grit / Fine 600 Grit Diamond Stones Pack

Includes Aluminum Base

Can sharpen blades up to 15" long

Angle Range: 13 to 35 Degrees ( 26 to 70 degrees inclusive)

Main angle adjustment in 1 degree increments, and micro-angle adjustment in 0.05 degree increments

Sharpener's angle markings are calibrated for knife's edge at 5/8" over top of vise

Minimum knife height for stones to clear vise at lowest angle is 5/8" over top of vise. Low Angle Adapter (sold separately) required to reach low angles on smaller knives

Guide Rod length: 10"

Max Clamping Width: 3/16" *Attachment for 1/4" Blades is available*

Product Weight: 7.4 LBS