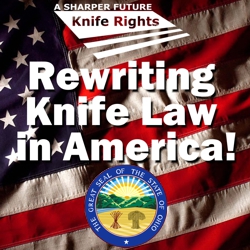 With the August legislature recesses over, Knife Rights efforts are picking up again. On Tuesday, at a hearing of the Ohio Senate Veterans and Public Safety Committee, a substitute version of SB 156, Knife Rights' Ohio knife law preemption bill, was introduced.
The substitute version is the result of efforts by Prime Sponsor Senator Kristina Roegner's office and our Director of Legislative Affairs, Todd Rathner, to address potential legal issues that were identified after the bill's initial introduction. This version simplifies matters by adding "knives" to Ohio's existing firearms preemption statute and making relevant changes to accommodate that addition.
Sen. Roegner provided sponsor testimony at the hearing, saying, "after the enactment of SB140 last session (requested by Knife Rights), an issue remains in Ohio because of a patchwork of confusing local ordinances. What is legal to carry and possess in one town may be a serious crime to possess in another. This patchwork of laws is confusing, unreasonable, difficult to enforce and nearly impossible for the average citizen to follow."
Knife Law Preemption is a Knife Rights criminal justice reform effort that nullifies existing ordinances and prevents new local ordinances more restrictive than state law which only serve to confuse or entrap law-abiding citizens traveling within or through the state. Preemption ensures citizens can expect consistent enforcement of state knife laws everywhere within a state.
Knife Rights authored and passed the nation's first Knife Law Preemption bill in Arizona in 2010 and has since passed preemption bills in Alaska, Georgia, Kansas, New Hampshire, Oklahoma, Tennessee, Texas, Utah, West Virginia and Wisconsin.
Knife Rights will let you know when it is time to contact your legislators to support SB 156.and its companion House bill, HB 243 (which had its first hearing back in June).
Knife Rights is America's grassroots knife owners' organization; leading the fight to Rewrite Knife Law in America™ and forging a Sharper Future for all Americans™. Knife Rights efforts have resulted in 33 bills enacted repealing knife bans in 23 states and over 100 cities and towns since 2010.
Prizes in the Tail End Bonus have grown to OVER $30,000 with the addition of over $4,000 in prizes from the USN Gathering! All donations made at this point are entered to win in BOTH the Main Drawing and the TAIL END Bonus Drawing! Donate now and get DOUBLE THE CHANCES TO WIN! Just 3 Weeks Left to DONATE!
Please, support Knife Rights, get chances to win spectacular prizes and help us continue to rewrite knife law in America™, forging a Sharper Future for all Americans™. See the prizes and donate at: www.UltimateSteel.org