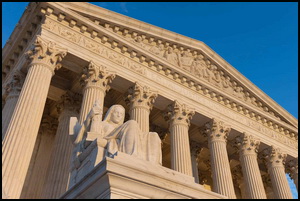 In conformity with the U.S. Supreme Court's direction that they respond to Plaintiff's Petition for Writ of Certiorari in our long-running Gravity Knife case, New York City and DA Cyrus Vance, Jr. filed opposition briefs Monday, May 13.
Both briefs continue the Defendants' campaign of misdirection and obfuscation. They repeatedly mischaracterize the nature of the claim and draw upon irrelevancies to raise alleged defects in the petition that are not there.
Read the two briefs:
New York City Opposition Brief
DA Vance Opposition Brief
After review of the two briefs, we are more confident than ever that our petition has merit and that there are constitutional issues of significant consequence in this case that the Court should hear.
Petitioner's response to the NYC and DA briefs is due May 28. That would be expected to put us on schedule for a June conference where the Justices will decide whether or not to grant the petition and hear the case.
Three amicus curiae (friend of the court) briefs have been filed in support of plaintiffs' petition.
Meanwhile, the New York legislature has passed a bill that would repeal the ban on gravity knives, but the question is, will Governor Cuomo sign it? He has vetoed two bills previously passed in 2016 and 2017.