Freedom's Steel™ IX – Liberty's Edge™ Automatic Knife
Freedom's Steel™ IX – Liberty's Edge™ Automatic Knife

Knife Rights' Extraordinary Custom Collaboration Knife
Supporting NRA-ILA and the Second Amendment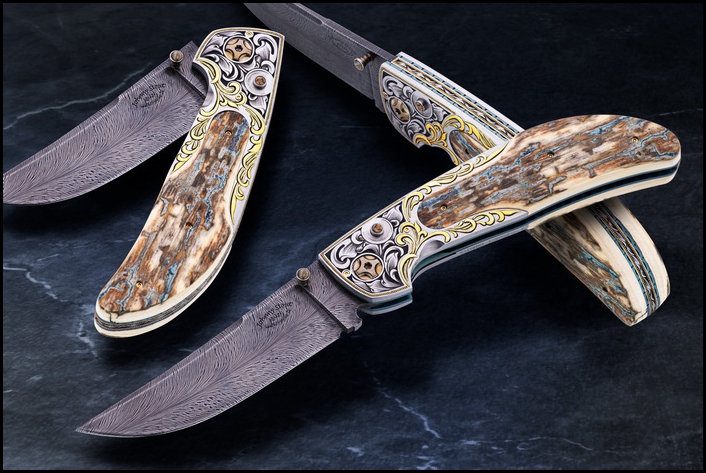 Click or tap images for High Resolution Photos
Freedom's Steel™ IX – Liberty's Edge™ Double-Action Automatic Knife celebrates the Second Front in Defense of the Second Amendment™ and the liberties we fight to protect. For the past six decades and change switchblade (automatic) knives have been demonized by those opposed to freedom and liberty in much the same way as modern sporting rifles have been more recently. At one time they were banned or highly restricted in nearly half the states! Today, thanks to Knife Rights' efforts, they are legal to own, to one degree or another, in 44 states and legal to carry in 33.
With the generous support of our collaborators, Knife Rights has donated Freedom's Steel™ IX – Liberty's Edge™ Automatic Knife, a one-of-a-kind custom crafted Double-Action Automatic Knife by acclaimed knifemaker Johnny Stout with Julie Warenski-Erikson engraving and a feather Damascus blade by Master Bladesmith Véronique Laurent, to the National Rifle Association's Institute for Legislative Action (NRA-ILA) to support NRA-ILA's defense of the Second Amendment in this critical election year. Knife Rights is the Second Front in Defense of the Second Amendment™.

Freedom's Steel™ IX – Liberty's Edge™ Double Action Automatic Knife was scheduled to be a featured auction item at the NRA-ILA Dinner and Auction, to be held during the 2020 NRA Annual Meeting in Nashville, Tennessee. With the cancellation due to the COVID-19 pandemic of the NRA Annual Meeting & Exhibits, Rock Island Auction Company has generously offered to feature this extraordinary knife in their flagship Premier Auction to be held September 11-13.  ALL proceeds, including the buyer's premium, of this knife will be given to NRA-ILA.
Freedom's Steel™ IX – Liberty's Edge™ Automatic Knife will be auctioned on September 12th. Click to go to it's page in Rock Island Auction's Premier Auction where you can bid, either through a sealed bid or by phone during the actual auction.
Proceeds from the sale of Freedom's Steel™ IX – Liberty's Edge™ Automatic Knife will support NRA-ILA efforts to defend the Second Amendment this election year. This is the ninth year in a row that Knife Rights has donated a Freedom's Steel™ knife, raising over $240,000 the first eight years. Knife Rights sincerely appreciates Rock Island Auction Company stepping up to help us continue this tradition this critical election year.
"Our Second Amendment freedoms have never been at such risk as they are today. We must all be active and united defenders of our rights and freedom or we will see them taken from us. Knife Rights and the NRA have a common interest in protecting our civil rights and specifically the right to own and use tools appropriate for self-defense. Knife Rights is proud to assist NRA in protecting these rights," said Knife Rights Chairman and Founder Doug Ritter. "We are sincerely grateful for the support provided to us by NRA-ILA as we fight the Second Front in Defense of the Second Amendment."
"Since 1871, the NRA has fought to defend the rights of law-abiding Americans. We are truly grateful for the support of our friends at Knife Rights and their continued contributions to our ongoing efforts to preserve our freedom," said Jason Ouimet, Executive Director of the NRA's Institute for Legislative Action."
Ritter noted, "we are indebted to these incredibly talented artisans who contribute their valuable time, talents and materials to support Knife Rights by creating this extraordinary knife." Each craftsman's efforts and every component of Freedom's Steel™ IX – Liberty's Edge™ Automatic Knife was donated to Knife Rights to support its efforts to defend and enhance our right to own and carry knives as tools used daily by millions of Americans and at times wielded as an "arm" in self-defense.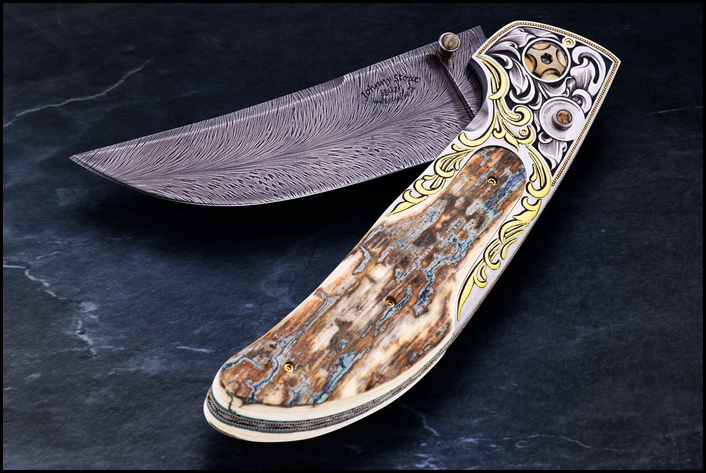 Freedom's Steel™ IX – Liberty's Edge™ Automatic Knife was conceived and sponsored by Knife Rights expressly to benefit NRA-ILA.
Knife Rights sincerely appreciates the generous contributions by the collaborators that allow us to make this donation. Internationally collected and multiple award-winning Texas knifemaker Johnny Stout has crafted a very special version of his renowned "Vaquero" Double Action Switchblade (Automatic Knife) for Knife Rights' ninth Freedom's Steel. Dubbed Liberty's Edge™, it features elegant engraving and 24K gold inlay by Julie Warenski-Erikson.
The dramatic 3.75-inch trailing point blade was ground from exquisite Feather Pattern Damascus forged by multiple award-winning Master Bladesmith Véronique Laurent. Exhibition grade, museum fit Mammoth Ivory scales, donated by Fine Turnage Productions, finish off the 4.875-inch long handle, for an overall length when open of 8.562 inches. The Titanium liners have been jeweled and hand-fileworked, then anodized. All the fasteners are 24K gold plated.
"Double Action" means that the blade can be deployed automatically with the push of the Mammoth Ivory inlaid 24K Gold button in the handle or the blade can be opened manually using the Mammoth Ivory inlaid 24K Gold thumb stud on the blade if circumstances dictate a less energetic opening of the knife.
Art Knife Invitational member and multiple award-winning Julie Warenski-Erikson's engraving has raised 24K gold inlays with shadow accenting, scroll leaf engraving and 24K gold beaded borders.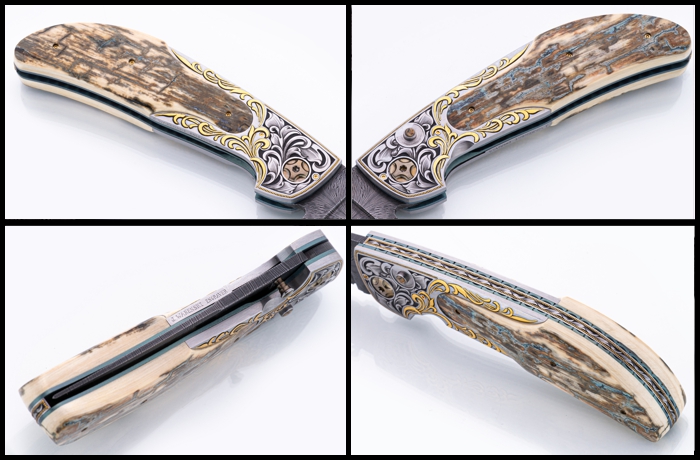 Click or tap image for High Resolution Photos

The Collaborators & Donors

Knifemaker: Johnny Stout
Engraver: Julie Warenski-Eriksone
Feather Damascus: Véronique Laurent
Fossil Mammoth Ivory: Charles Turnage – Fine Turnage Productions
Photographer: Dirk Loots – Photography by Dirk Loots
Auction: Rock Island Auction Company
Sponsor: Knife Rights
Recipient: NRA Institute for Legislative Action
(See details of each collaborator and donor below)

Knifemaker: Johnny Stout
New Braunfels, Texas
www.stoutknives.com
www.instagram.com/stouthandmadeknives
www.facebook.com/johnny.stout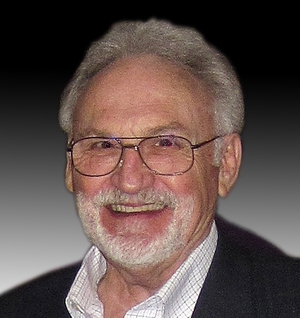 After almost a lifetime of being a knife lover and user, both as a sportsman and novice repairman, Johnny began making knives in 1983, and became a full-time maker in 1992. Using ancient and exotic, as well as state of the art, materials, he offers fixed blade designs, as well as many fine folding knives with various locking mechanisms, to include automatic (switchblade) knives. In his one-man shop, each knife is built by solely by Johnny, one at a time, and made from a variety of USA made steels: carbon, stainless, and some of his own pattern welded Damascus, as well as other maker's specialty Damascus. Johnny remains committed to a highest level of attention to detail that is hard to find in the world today.
Johnny is a member of the American Bladesmith Society and founding member and past President of the Texas Knifemakers and Collectors Association.
For the knife enthusiast that have a desire to build their own knives, Johnny offers three levels of knife instruction: Basic, Advanced, and Fine Folders. If you'd like to cut years off your learning curve, consider one of these classes.

Engraver: Julie Warenski-Erikson
Saint George, Utah
www.warenskiknives.com
www.instagram.com/julie_warenski/
www.facebook.com/jwarenski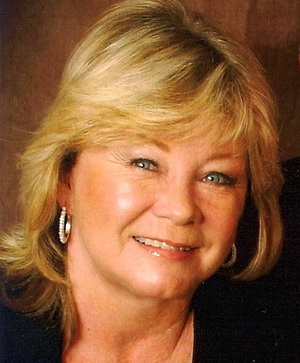 One of America's preeminent knife engravers, Julie's career in custom knifemaking began in 1986 when she met Buster Warenski who taught her  the art of engraving. She was taking an engraving class, which he taught, and later that year they were married.  Within a year Julie was engraving every knife they made and also engraved for many other knifemakers and customers all over the world.  Over the years she worked in many areas of knifemaking helping with knife designs and also making many parts of their knives, as well as doing all the embellishment on them. She says, "we had a great marriage and awesome relationship until he was so unexpectedly taken away forever."  (Buster passed away in 2005)

After Buster's passing, Jule had a strong desire to make knives and continue to make the great art knives that they had worked on, and had a unique partnership with, for the past 20 years.  A past student of Buster's, Curt Erickson, had offered to help teach Julie to grind the way Buster had taught him.  Curt was the only person Buster had really tutored in knifemaking and she graciously accepted his offer.  After working with Curt and with his help, Julie won the Buster Warenski award for the best Art Knife at the New York knife show in February 2006.   Curt and Julie were married in 2006, and now work together.

Feather Damascus for Blade: Véronique Laurent, MS

Véronique Laurent Facebook
Contact Véronique by email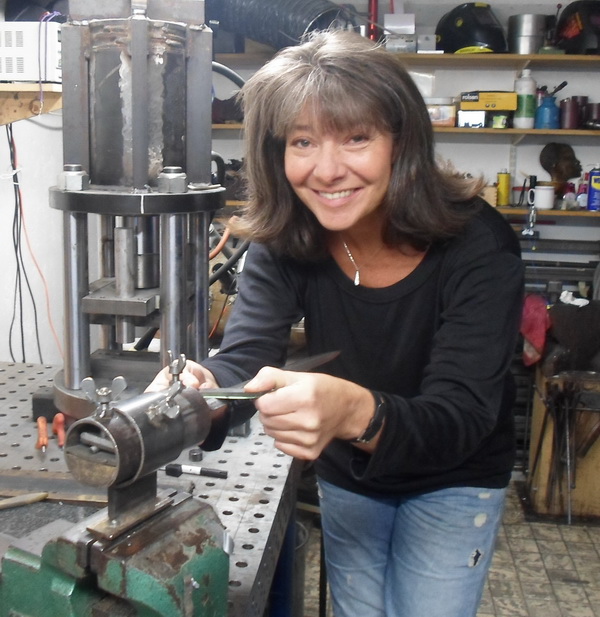 Master Bladesmith Véronique Laurent was born in 1968 in Belgium and now resides in Brussels. She notes that, "the United States gave me the chance to make a living as a knifemaker. The NRA stands for freedom and that freedom was welcoming to me."
Initially, her interest lay in cold iron work, not making knives. But, In 2004 she attended a forging event where the Belgian Knife Society gave knife forging demonstrations and her passion for forging knives was kindled. She took a class from a Belgium bladesmith and he providing additional advice for a period of time. Her partner, Michel, built her a hydraulic press, belt grinder and other knifemaking necessities to continue her bladesmithing journey.
In 2010, a French collector invited her to a gathering of bladesmiths. Laurent met Master Bladesmith Joe Keeslar of the American Bladesmith Society and became excited about their rigorous apprenticeship-based training system. As she relates, "the beauty is that they share all their knowledge. You get all the information you need to move forward. It is very motivating." After spending two years as an Apprentice Bladesmith, Laurent crossed the Atlantic to attend BLADE Show in Atlanta, Georgia, and passed her Journeyman Bladesmith test in 2013.
A mere two years later in 2015 her growing skill set and passion for excellence allowed her to pass the very demanding Master Bladesmith test. At the time, she became the third female Master Bladesmith and she started knifemaking full time. In 2017, after lessons from a Master Engraver, she started engraving her knives. She produces an average of seven large knives annually. Her knives are in collections all over the world.
In 2019, she generously donated Lady Liberty's Steel™ III – Isabel – Freedom's Web™ to the NRA Women's Leadership Forum.
Fossil Mammoth Ivory: Charles Turnage – Fine Turnage Productions
San Antonio, Texas
www.fineturnage.com
www.facebook.com/fineturnageproductions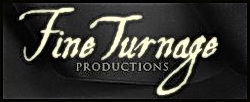 Designing functional art has been my business for years, but working with wood has been a part of my life for 30 years or so. As a hobby I have built fences, decks, kitchen cabinets, antique replica furniture and more. Growing up as a kid and working with my father who was a landscaper and an uncle who was a carpenter helped me became skillful with my hands. My creativity I owe to God.
I am the author of a book "Turning Beautiful Pens with Charles Turnage" (not yet published) and I wrote an article for Popular Woodworking magazine (Dec. 2002) entitled "Turned Bottle Stoppers" and one for American Woodturner due out September 2003 entitled "Bottle Stoppers". Some other articles on my work are "Noted with Pleasure" Niche magazine (Winter 2003), "Carving art out of antlers and palm nuts" Sunday Telegram (business section- Dec. 15, 2002), "Turning Time" Worcester Magazine (June 20, 2001) and "Wood Ma.. Fall Show 2000" Wood magazine. I have also been on front cover of Penn State Industries (craft supply catalog) three times. A few other noteworthy accomplishments are I developed Hi-Gloss Project Finish, I designed the Bottle Stopper Lathe Chuck, I redesigned the Wine Bottle Stopper Kit (all for Penn State Indus.) and I designed a jig for getting fine shavings from bone for Etex Corporation.reations, but you can also choose from carvings and artwork by gifted craftsmen and women from around the state and choose from our selection of quality ulus made right in the store.
For the custom knife maker and carver, we have hundreds of natural materials, horns, antler, fossil ivory, mammoth teeth, exotic hardwoods and minerals from around the world.

Photographer: Dirk Loots – Dirk Loots Photography
Cumming, Georgia
www.dirkloots.com
www.instagram.com/dirk.loots
www.facebook.com/dirklootsphotography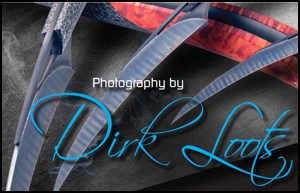 Dirk Loots is a South African born knifemaker now living and working in Cumming, Georgia. His knife-making journey began in 2011 after taking a course in South Africa that taught him the possibilities of knives as an art form. By 2016, Dirk had become quite accomplished and entered the high-end "functional-art" market; whereby he immediately garnered the attention and respect of some of the finest knife makers in the world.
In addition to knives, Dirk is also an accomplished photographer. He was renowned in his home country as the preeminent photographer of master knifemakers in South Africa. Dirk has had the pleasure of working with phenomenal artisans from across the globe and his photography skills are available to other knifemakers upon request.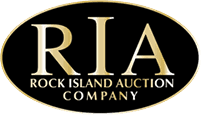 Auction: Rock Island Auction Company.
www.rockislandauction.com
1-800-238-8022
Rock Island Auction Company has been the #1 firearms auction house in the world every year since 2003. We auction tens of thousands of firearms, bladed weapons, military artifacts, and firearms accessories annually. We have a habit of excellence, regularly breaking and re-breaking our own records and redefining success in our industry as more and more customers admire our results and trust our reputation. Located along the mighty Mississippi River, our 150,000 square foot campus hosts numerous firearms auctions each year; five are open to the public and the remaining are Online Auctions with no bidders present on site. We are always seeking new consignors of all levels. If your collection is a single gun or one thousand; worth $1,000 or $1,000,000, we would be happy to help you make the most possible money for your items. We can also purchase guns outright or sell via private treaty. There is no limit to what we can consign or buy.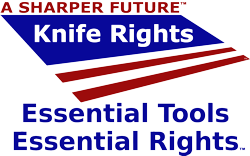 Sponsor: Knife Rights, Inc.
Doug Ritter, Founder and Chairman
www.KnifeRights.org
Knife Rights is the Second Front in Defense of the Second Amendment™. Knife Rights is Rewriting Knife Law in America™, forging a Sharper Future™ for all knife owners with 32 bills enacted since 2010 repealing knife bans in 22 states and over 100 cities. Knife Rights is dedicated to providing knife owners an effective voice to influence public policy.

Recipient: National Rifle Association's Institute for Legislative Action (NRA-ILA)
www.NRAILA.org
The Institute for Legislative Action (ILA) is the lobbying arm of the NRA. Established in 1975, ILA is committed to preserving the right of all law-abiding individuals to purchase, possess and use firearms for legitimate purposes as guaranteed by the Second Amendment to the U.S. Constitution. While NRA is a single-issue organization, ILA is involved in any issue that directly or indirectly affects firearms ownership and use. ILA is also involved in educating the public about the facts concerning the many facets of firearms ownership in America.

---
Knife Rights' Donated Collaborations Benefiting NRA Institute for Legislative Action

---
Knife Rights' Donated Collaborations Benefiting NRA Women's Leadership Forum